*license-free Hand-held two-way radio with patrol function
*six-way rapid charger
*long talking range radio communication solution
*High-quality mini repeater
FREE shipping on all orders over $100.
---
At present, the patrol solutions of many companies is separated from the radio communication solutions, which is two independent systems. It also means that when workers patrol, they should bring not only the radio for communication, but also the patrol equipment, two independent equipment, which brings great inconvenience to patrol personnel, not only inconvenient to carry, but also high cost. The outstanding advantage of commercial patrol solution is the use of walkie talkie with patrol function. It is not only easy to carry, but also able to meet the communication needs, as well as the clock in search of patrol. It is very effciency.
License free Patrol radio communication solution outstanding advantages:
1. license free handheld radio with patrol function
The handheld radio with patrol function,nnder the premise of meeting the wireless radio communication, it can meet the needs of patrol at the same time, one radio and two uses, very convenient and efficient.
With Alarm function, When pressed, radio will send out will sound an alarm to attract the attention of others.
With decent distance and good reception, providing clear and loud calls within its range.
License free, with CE FCC Certification FRS handheld radio, very fit for normal business use, like security patrol work for properties, parks, warehouses, etc.
2. FCC Certification mini repeater
Small and compact, solid and dust-proof mini repeater, simple and convenient installation, flexible operation, can be operated as fixed or mobile.
Multi working power selection, working with the matching power adapter, and also can work under DC12V~24V power or car power.
With the addition of relays, the hand-held radio can reach a distance of 12km, and can cover signal blind spots, such as basement, corners of stairs, corners of buildings, etc.
3. Six-Way rapid gang Charger
Capable of charging up to six batteries or six radios simultaneously.
Capable of controlling the charging process to ensure high efficiency.
Self-switching (AC 100V-240V) power supply for international use.
Safe and reliable, with multiple safety protection.
4. Omni-Directional Aluminum Alloy Antenna
High quality aluminum alloy material, Omni directional base station antenna, with high gain, wide bandwidth, low standing wave ratio, waterproof, anti-corrosion with high strength and high-quality aluminum alloy package, strong wind resistance characteristics, is a kind of ideal communication antenna, antenna design style, easy disassembly and assembly and convenient use.
5. 15 Meter Pure Copper Low Loss Coaxial Extend Cable
Pure Copper material, Super Gainer Low Loss Coaxial Cable, extendable that boosts the signal of your repeater significantly.
Package Include:
36 x RT28 two way radio

36 x Battery

36 x Belt Clip

36 x Hand Strap

6 x RTC21 Six-Way charger

6 x Adapter(US/UK/EU/AU)

1 x MA01 Omni-Directional Base Station UHF Antenna

1 x 15m 50-3 feeder cable

1 x RT97 repeater
Repeater Technical parameters:
Specifications

Frequency Range

136-174MHz or 400-470MHz

Channel Capacity

16CH

Channel Spacing

±12.5KHz Narrow/±25kHz Wide

Operating Voltage

DC12V ~24V

Operating Temperature

-30°C~ +60°C

Frequency Stability

±2.5ppm

Antenna Impedance

50Ω

Dimension

260*210*70mm

Weight

1.66kg
Transmitter

Intermediate Frequency

160MHz / 465MHz

Power Output

10W

Modulation

F3E

Spurious Emission

-60dB or less

Maximum Frequency Deviation

Wide: ±5kHz Narrow: ±2.5kHz

Audio Distortion

5% or less

FM Noise

Wide:≤45dB Narrow :≤40dB
Receiver

Intermediate Frequency

150MHz / 455MHz

Sensitivity(12dB SINAD)

0.2μV (Wide) 0.25μV (Narrow)

Squelch Sensitivity

0.15μV (Wide) 0.2μV (Narrow)

Adjacent Channel Selectivity

≥ 70dB (Wide) / ≥65dB (Narrow)

Intermodulation

≥ 55dB

Spurious Rejection

≥ 55dB

Image Rejection

≥ 55dB

FM Ham and Noise

≤-45dB(Wide) / ≤ -40dB(Narrow)

Modulation Type

F3E

Operating Bandwidth

≤±7KHz / ≤±5KHz

Audio Distortion

≤ 5%
Handheld license free walkie talkie Technical parameters:
General

Frequency range

462.5500-462.7250MHz

Channel

16

Operation voltage

3.7V

Frequency stability

±2.5ppm

Operation temperature

20°C-+50°C

Dimension(without antenna)

124x56x33mm

Weigh(with battery)

185g

Transmitter

Maximum deviation

<=2.5KHz

Spurious emission

<=7.5uW

Adjacent channel power

<=-60dB

SNR

>=-40dB

Modulation sensitivity

8-12mV

Transmission current

<=1.2A

Receiver

Sensitivity

-122dBm (12dB SINAD)

Audio distortion

<=10%

Intermediation

>=60dB

Adjacent channel selectivity

>=60dB

Clutter suppression

>=65dB

Receiver current

<=380mA
Rapid Six way charger Specification:
Input 5V/4A
Output:4.2V
Charging current :500mA(per pocket)
Dimension:25 x 20 x 6cm/9.84 x 7.87 x 2.36in
Weight:965g/34.04oz(include adapter)
Omni-Directional Base Station Receiving and Transmitting Antenna

Specification:
| | |
| --- | --- |
| Brand | Retevis |
| Model | MA01 |
| Color | Silvery White |
| Frequency | 390-470MHz |
| Gain | 4dBi |
| Support Power | 100W |
| S.W.R | <1.2 |
| Element | 3 |
| Length | 45.7inch(116cm) |
| Weight | 0.748kg |
Pure Cupper Low Loss Coaxial Extend Cable Features:
It is extendable that boosts the signal of your repeater significantly
Super Gainer Low Loss Coaxial Cable
Suitable for Retevis RT97 repeater
Material: pure copper
Impedance: 50Ω
Return loss: VHF≥20dB UHF≥15dB
Connector plug: SL16
Cable diameter: 5mm / 0.2inch
Cable Length: 15 meter
Weight: 660g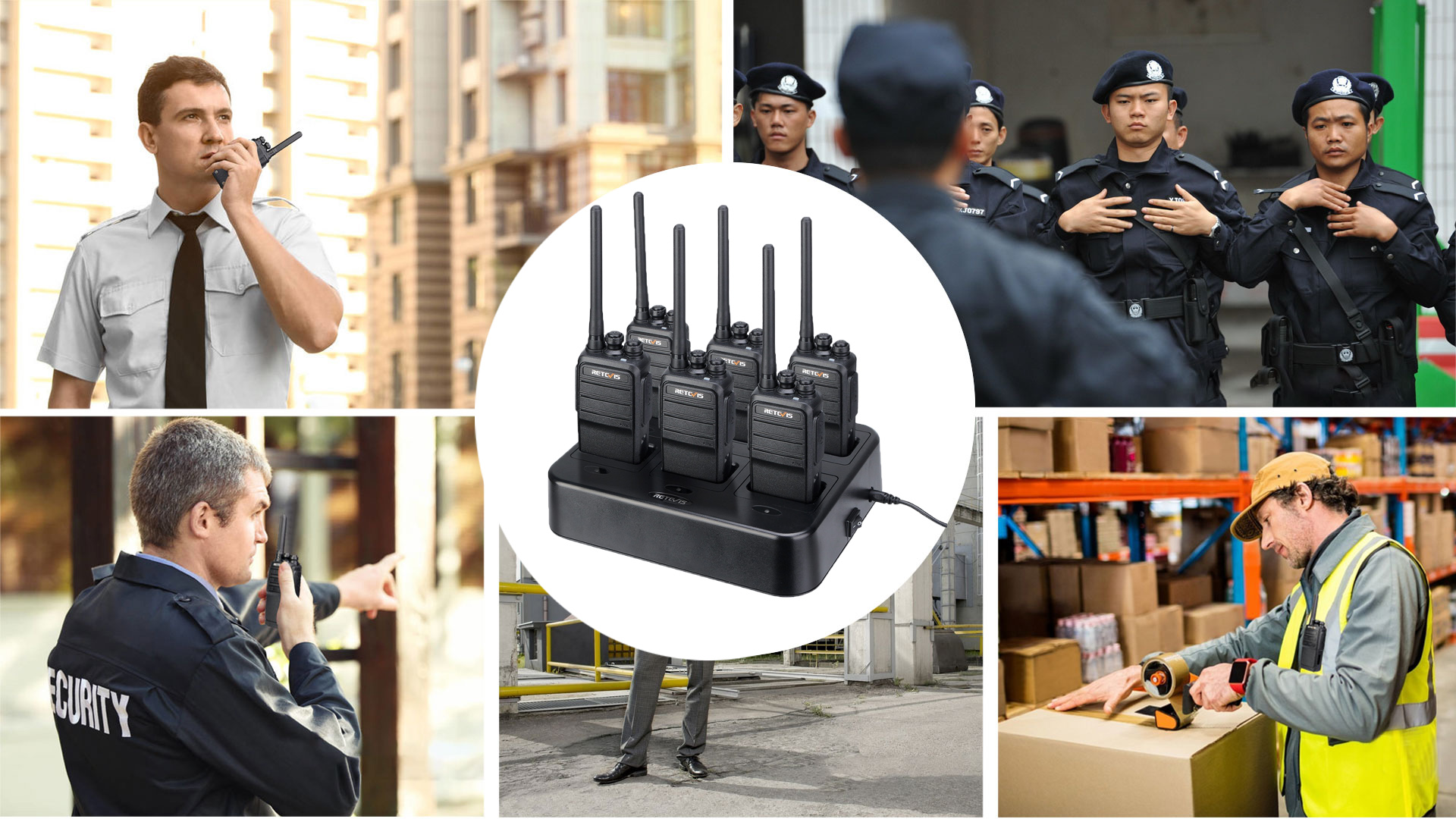 1. It is applicable to fire prevention, theft prevention and security patrol inspection of buildings and residential properties, shopping malls, supermarkets, hotels, buildings, factories, mines, enterprises and institutions.
2. Oil: patrol inspection for oil pipeline, natural gas pipeline, oil tank area and oil well facilities.
3. Power: patrol inspection for substation, transformer, high-voltage tower, pole, high-voltage line, power plant, reading of electric energy meter and safety appliance.
4. Railway: subgrade, track, bridge, water and electricity, locomotive, warehouse, waiting hall, patrol and patrol by police.
5. Telecommunication: patrol inspection of optical cable, telephone line, telephone booth, pole and transmitter station.
6. Public security: patrol, traffic police, police cars, sentries and prison guards.
7. Military: patrol and patrol in frontier defense, sentry post, ammunition depot and Quartermaster Depot.
8. Grain depot: patrol inspection for fire, water, insect, temperature and humidity control.
9. Forestry: forest fire prevention, forest police patrol, animal and plant protection, anti hunting patrol.
10. Mining industry: underground safety, facilities, vehicles and coal yard patrol.
11. Hospital: nurse rounds, corpse management, personnel assessment, security patrol.
12. Post: patrol inspection for frequency / time limit management of mailbox, warehouse and train.
13. Airport: inspection tour for waiting hall, runway and fire detection.
14. School: patrol inspection of campus, teaching building, dormitory, experimental building and Library.
Please fill in your procurement needs and contact information