When working on a farm, people are spread out over many acres, cell phone coverage is not reliable. Whether you're planting, cleaning out a granary, registering a farmhouse, running combine harvesters and grain carts, or just having everyday communications, you need to communicate with other people, and the best way to do that is with a two-way radio. Traditionally, farmers and ranchers have often used CB radios with limited range and poor voice quality, while farmworkers, usually use limited range license-free walkie talkies or expensive commercial walkie talkies, Farmers have to lease radio frequencies, this often brings higher costs.
As a new trend in farm communication, GMRS radios have been promoted and used by more and more farmers and ranchers, because of their long distance and high-quality calls. Retevis Solutions will introduce you to 3 handheld GMRS walkie talkies that are most suitable for agricultural communication. You can use it as a mainstream communication tool for your farms and ranches.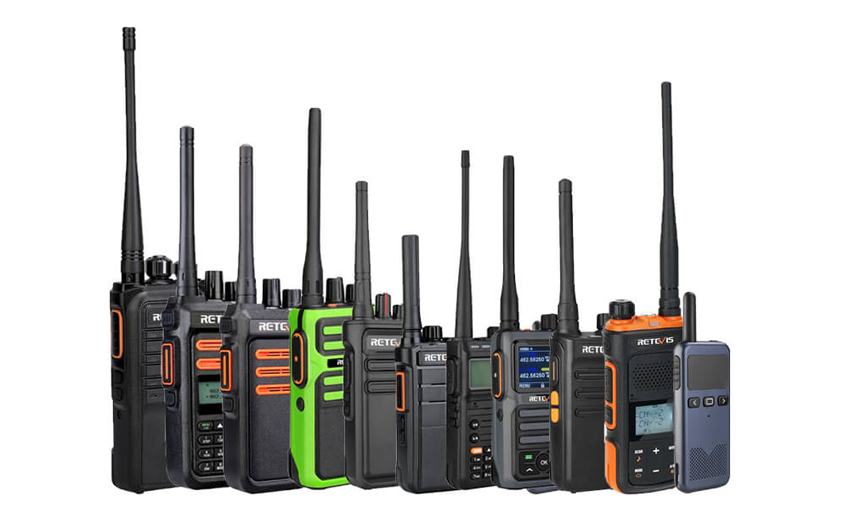 All Retevis GMRS two-way radios transmit on FRS/GMRS frequencies and can communicate with other brands of GMRS and FRS radios. For agricultural use, the best GMRS walkie talkies are RT76P, RB75, and RB27.
Choose a walkie talkie
Any choice should be based on needs. Before you make a decision, you must first understand your needs and concerns.
Application
Used by ground workers on farms and ranches to maintain instant communication with vehicles on the farm and farm workers in the farm, improve farm work efficiency and ensure safety.
Range
The walkie-talkie you choose should have the ability to cover the entire farm. A normal GMRS hand-held walkie-talkie can have a call distance of 3.5KM in the open environment of the farm. If this distance cannot meet your needs, we recommend that you set up a GMRS repeater on the farm to extend the range of the handset.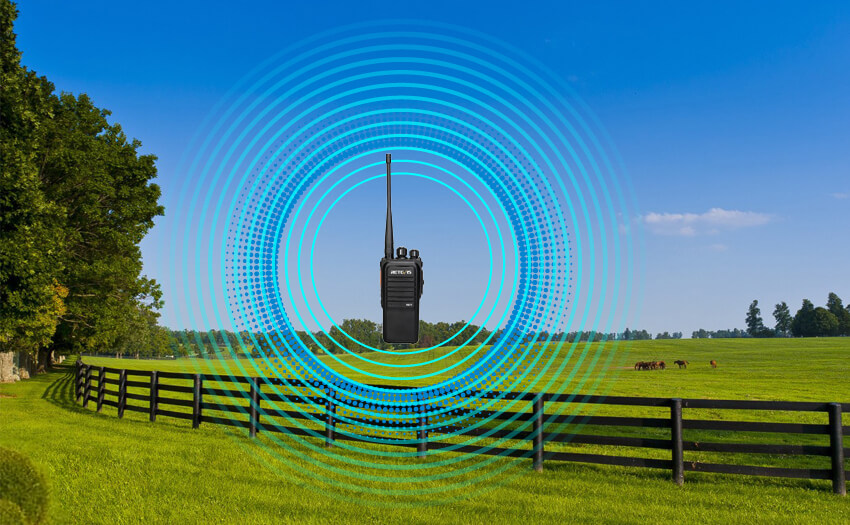 Durability
Just make sure the radio you buy is sturdy and durable. Your walkie-talkie for farm work needs to be able to handle the harsh weather outdoors, durable enough to withstand the weather and a few drops. When your subject is very dirty due to soil, when you wear heavy work gloves, you need the walkie-talkie to be able to use it comfortably at this time.
Privacy
Given the ubiquity of GMRS and the use of FRS frequencies, while your farm may be located in a rural area that is unlikely to receive messages from other radios, you may also encounter other neighbors running FRS/GMRS frequencies radios. In order to avoid signal interference affecting communication efficiency, all Retevis radios can be set up with privacy codes to prevent unwanted chats.
Compatibility
If you already own another brand of GMRS whether it's a handheld or mobile station, or an FRS walkie talkie, and are looking for a new handheld two-way radio, make sure they're compatible. Unlike CB radios, Retevis GMRS is compatible with other brands of FRS and GMRS radios. FRS/GMRS Handheld Two-Way Radios are pretty much any handheld two-way radio (walkie-talkie) you'll find at a sporting goods store or big box retailer. You can easily customize your communication system by combining Retevis GMRS walkie talkie with the mobile radio.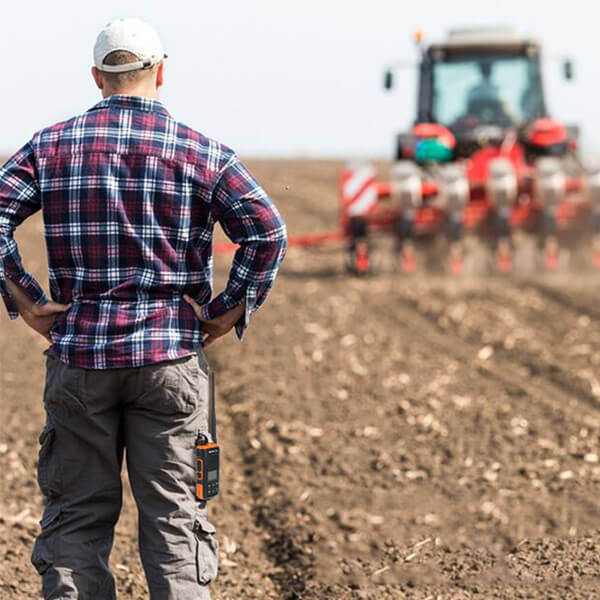 Easy programming
Although GMRS radio and FRS radio are very simple to use, and are a perfect "plug and play" option. But as mentioned earlier, the factor code issue to get a private call, or you need to set personalized functions according to your needs, such as For group calls, group calls, VOX, etc., you need to choose a very simple and easy walkie talkie in Penang. Retevis GMRS walkie talkie has an ultra-simple programming software design, allowing you to easily program according to your needs.
The best walkie talkies for Agriculture
There is no absolute best walkie-talkie, only the walkie-talkie that best matches your needs.
Retevis RT76P 5W Full keypad GMRS Walkie Talkie
Retevis RT76P GMRS walkie talkie is Retevis' best-selling handheld GMRS walkie talkie, because of the full keyboard design and LCD display, users can set almost all functions of the walkie-talkie outdoors without a computer, and can achieve a single, group call, full call, Squelch Function bring you good reception and transmission, clear sound, making it very suitable for agricultural use environment.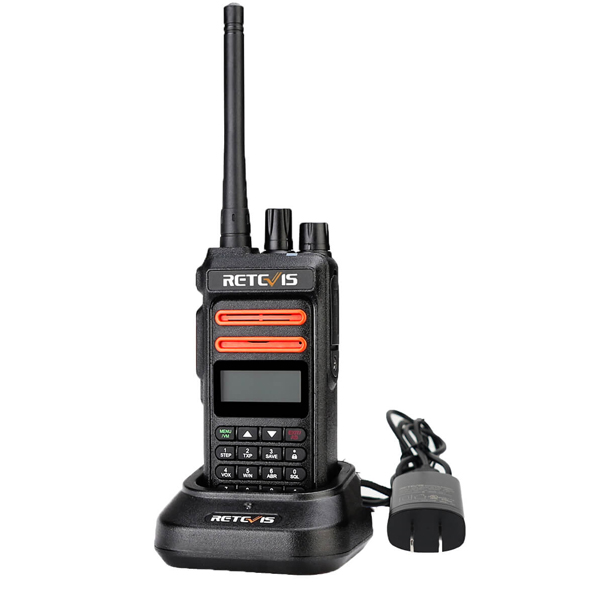 Retevis RB75 5W waterproof GMRS walkie talkie
Retevis RB75 GMRS walkie talkie is a 5W IP67 waterproof and dustproof GMRS walkie talkie, it is also the best fit for farmworkers, because of its no screen design, very easy and convenient to use, the IP67 waterproof and dustproof making it fit for any harsh outdoor environment, the large PTT allows you to easily operate the buttons to communicate with other people in an instant when wearing heavy work gloves or even when your hands are full of dirt, VOX frees your hands, both in terms of function and performance, Retevis RB75 GMRS walkie talkie is the best choice to improve the efficiency of farmworkers communication.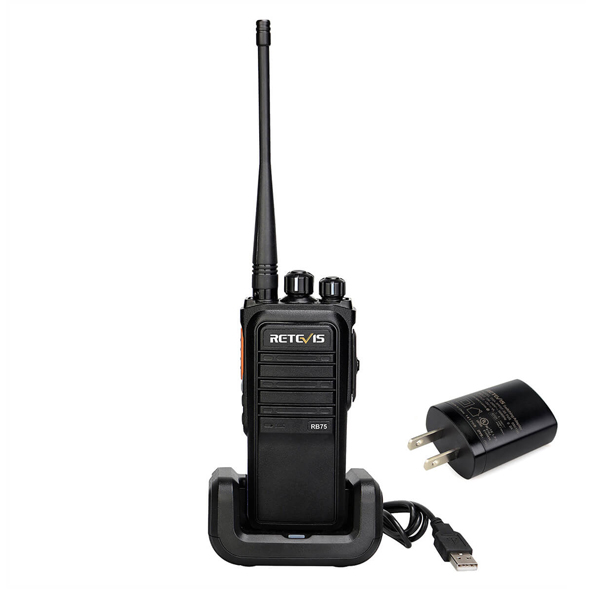 Retevis RB27 5W semi-keypad GMRS walkie talkie
Retevis RB27 GMRS walkie talkie features a unique 5W version keyboard design, 6 simple buttons, which can meet both simple settings for farm outdoor and communication needs, popular color matching, and large LED flashlight design, making it suitable for farm night work to ensure safety.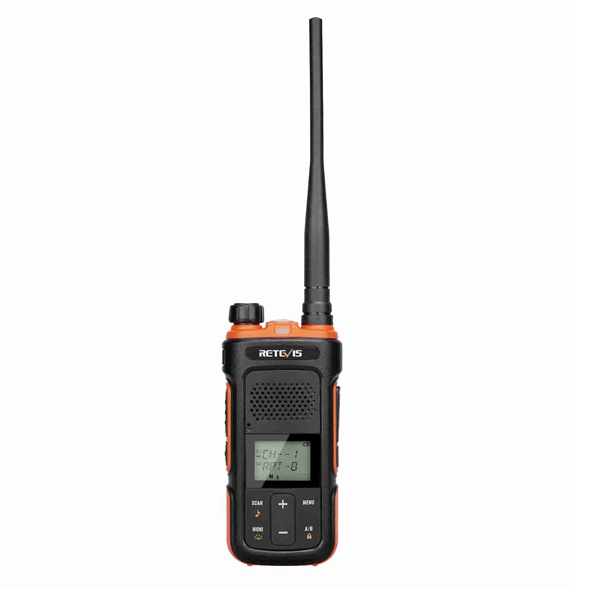 At last
All RetevisGMRS walkie talkies have FCC certification, so you don't have to worry about certification, the last 8 channels of all Retevis GMRS walkie talkies are GMRS relay channels, you can use these channels to connect to a GMRS repeater near you to achieve more For long distance calls, Retevis GMRS walkie talkie can also be added to your farm existing GMRS communication system.
Retevis Solutions focus on supplying Long Distance GMRS radio and long range radio solutions for farms and ranches, now we have an event for 2022 spring Tillage, Order now to enjoy free shipping and up to 10% off. If you need more help, welcome contact us: info@retevissolutions.com