Walkie-talkie is an important communication tool for daily family communication. As a special family walkie-talkie, GMRS is not only a legally required family member to communicate with the walkie-talkie, but also, compared to FRS license free walkie-talkies, GMRS can reach farther distances, and, connect repeaters is allowed, there are many shared relay can not only make your family communication longer, but also play a vital role in the face of natural disasters.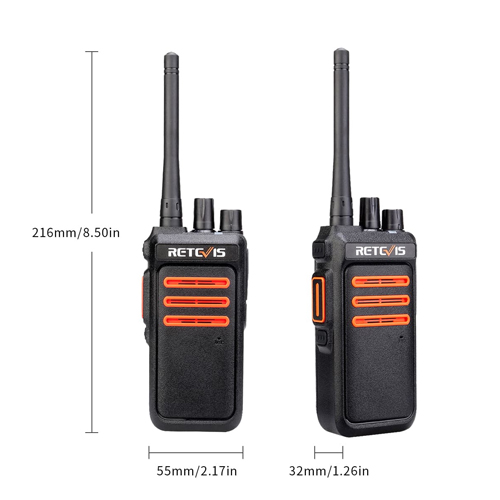 As a best selling long range handheld GMRS walkie talkie, Retevis RT76 walkie talkie with FCC certification, no keypad and screen display, support repeater connection to expand the communication distance, very fit for family daily communication use.
Then do you know what are features of Retevis RT76 handheld GMRS radio for family daily communication?
No keyboard and display screen, easy to operate, very suitable for the elderly and children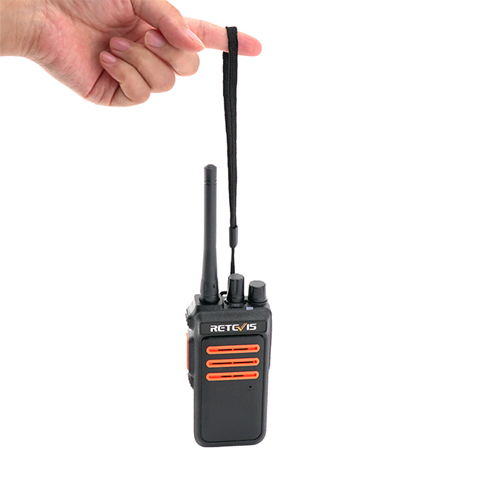 Retevis RT76 GMRS walkie-talkie is a commercial-looking walkie-talkie. It has no display, no buttons, only the PTT button and the side up and down buttons. Channel switching and volume adjustment can be done through the two knobs on the top of the walkie-talkie. It is very simple and easy to operate. It is suitable for the elderly and children to use. In this way, it can avoid the failure of daily communication caused by the wrong operation of the keys, or the damage of the display screen which will shorten the life of the walkie-talkie.
5W high power supply you long talking distance
The daily communication of the family is usually around the house and there are many buildings. The signal of the walkie-talkie is usually very easy to be affected, which greatly shortens the distance of the walkie-talkie. The Retevis RT76 GMRS walkie-talkie has an output power of 5W, which complies with the FCC's regulations on the power of handheld GMRS walkie-talkies. Compared with the 2W FRS license-free walkie-talkie, it can provide a longer talk distance and is also very suitable for use in buildings.
Support connect local GMRS repeater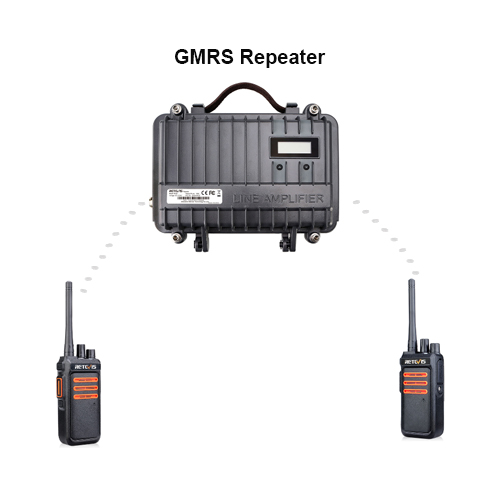 As Retevis RT76P factory channel setting, Retevis RT76 23-30 channel also can connect repeater directly, after you get the DPL of the relay you want to connect, you can change the QT/DQT Dec of the Retevis RT76 GMRS walkie-talkie. You can connect the relay directly to expand the communication range of the walkie-talkie, which is very helpful for family daily communication in the home, and between neighbors. Communication and rescue in natural disasters.
1400mAh larger battery for long using time
Retevis RT76 GMRS walkie talkie with 1400mAh large capacity battery, which can satisfy the family's communication throughout the day. And it supports three charging methods: USB charging, base charging, and adapter charging, which is very suitable for home use.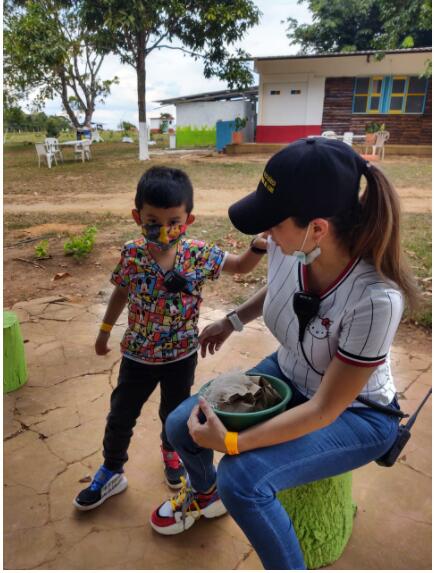 VOX function and speaker microphone support function make your use and carry more convenient
Retevis RT76 GMRS walkie talkie with VOX function, you can talk with each other without press the PTT, Kenwood 2pin speaker microphone make it more easy and cheap to get the speaker microphone, with the use of speaker microphone and VOX function, Retevis RT76 GMRS walkie talkie will bring you more comfortable and fashionable family communication methods make communication more fun and safe.
In the severe situation of COVID, Retevis RT76 can provide you with contactless communication with your family, and the relay connection function can help you get in touch with neighbors and community staff, which is very suitable for family use.
Retevis Solutions focus on supply professional GMRS radios, long range walkie talkie and radio solutions, if you have any needs or need any help in radio solutions, welcome to contact us: info@retevissolutions.com.