As the best-selling GMRS handheld walkie-talkie in Amazon, Retevis RT76P receives more and more people's affirmation. Retevis RT76P is a GMRS handheld two way radio with screen display, keypad and NOAA function, with FCC certification make it legitimate, which is very fit for Family outdoor activities, such as family camping, hunting, school group activities, farms and pastures, etc. However, as a communication tool product, users who are not familiar with walkie-talkies may encounter some problems in actual use. Today, Retevis Solutions will show you the most common problems and solutions encountered by Retevis RT76P customers.
Q: I cannot find the FCC ID of RT76P on the FCC website. Is it true?
A: Retevis RT76P GMRS walkie talkie FCC ID is 2ASNSRT76, it is really true. But you should check it with "Grantee code:2ASNS, Product code RT76"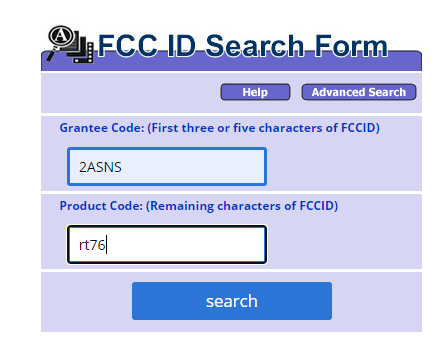 Search RetEvis RT76P on the FCC website
As we all know, FCC ID usually consists of two parts, Grantee Code: (First three or five characters of FCCID) 2ASSNS Product Code: (Remaining characters of FCCID) RT76. If you use Grantee Code: 2AS, Product code NSRT76, you must not find it out, please use Grantee code:2ASNS, Product code RT76, this is the right way,then you can get the right shown in FCC website as below:

Retevis RT76P FCC ID search result
With valid FCC certificate, you can buy retevis RT76P GMRS radio without any worry
Q: Is this RT76P radio compatible with repeaters?
A: Retevis RT76P compatible with a repeater, in face, our Retevis RT76P radio can connect Retevis RT97 repeater without any setting. If you need to connect to other repeaters, you can set the program set to connect the repeater by the program software, which you can download in our website directly. For more setting details, welcome to click our other blog: How to connect Retevis RT76P to GMRS repeaters around you(https://www.retevissolutions.com/blog/How-to-connect-Retevis-RT76P-to-GMRS-repeaters-around-you).
Q: Where can I download the software to program the radio?
A: you can download the software on our official website or send an email to info@retevissolutions.com to get the newest program software and firmware for Retevis RT76P GMRS radio.
Q: Is the online price is free shipping?
The online price doesn't include shipping, you can try to place an order. After entering the address, you can get the corresponding freight and total price. Of course, you are also welcome to contact info@retevissolutiuons to get the best price.
Q: I have some problem with the Retevis RT76P NOAA function, how can I solve it?
A: Please download the RT76P firmware from our website or contact info@retevissolutions to get it, and upgrade the firmware for your retevis RT76P radio, for detail steps, please check our blog: How to upgrade Retevis RT76P GMRS radio firmware for NOAA function(https://www.retevissolutions.com/blog/How-to-upgrade-Retevis-RT76P-GMRS-radio-firmware-for-NOAA-function), if there is still any problems, please feel free to contact info@retevissolutions.com.
Q: Software problem rt76p, The software that I download from the retevis website for the rt76p asks me for a password, I don't have one and I can't program the radios, how can I do it?
A: First of all, please try to skip this step or directly close the window that asks for the password.
If the first way can does't work, the password is necessary, please try 288288.
If the 288288 password is not working, please connect info@retevissolutions to get another version software to solve the Retevis RT76P program software problem.
Q: My Retevis RT76P deaf or with poor reception, how can I do to solve it(Both radios suffer from the same problem but not always reflect the problem at the reception,sometimes one receives and the other does not.,on other occasions the two do not receive,that creates insecurity in communication at both ends of the assigned points.. Other aspects about the reception in the case of the weather station ... one of the radios has almost no reception or very bad the other radio works perfectly in this case.)?
A: For poor reception of Retevis RT76P, there have two solutions.
Solution 1: Restore the default settings, turn off the dual standby function(the TDR function in your screenshot ), because the dual standby function may cause some interference to the received signal.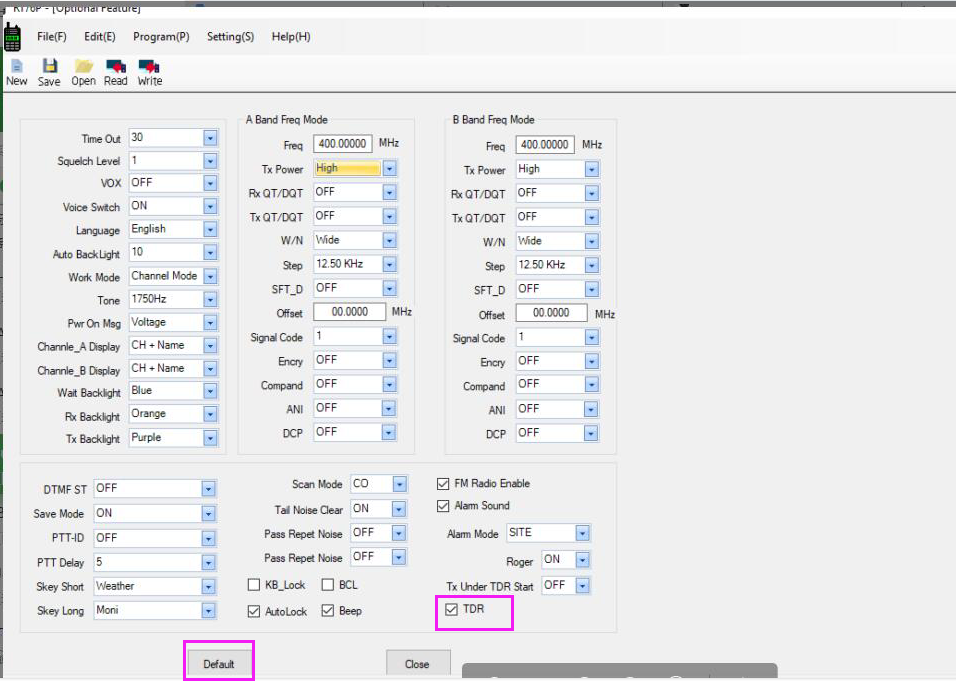 Retevis RT76P Restore the default settings
Solution 2: Avoid Integer frequency in Band A and Band B. if you need to set your own frequency, it is best to avoid the Integer frequency, because the Integer frequency is easy to be interfered with by the signal, resulting in the situation that the signal cannot be received, you can set it as below(Also keep TDR select blank):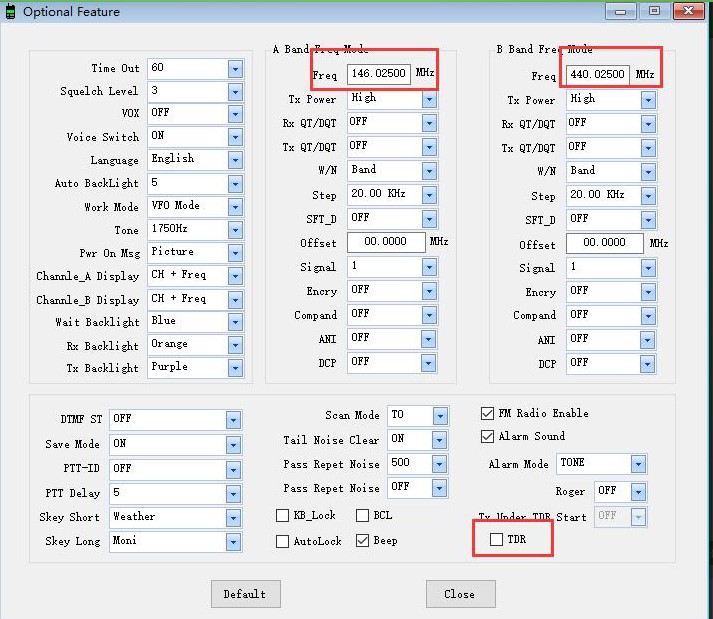 Retevis RT76P band And B frequency setting
If the two solutions still can't solve your problems, please contact info@retevissolutions.com for more help.
Q: why the step is not programmed at 12.5khz? always turning the radios off and on returns to the original settings. 2.5khz. To connect the repeater.
A: If you need to connect to the relay, you only need to set the channel information of the walkie-talkie directly in accordance with the TX RX DPL W/N of the relay in the channel setting. You don't need to set the steps of Band A and Band B in the Optional Feature window. For setting, the steps of Band A and Band B represent the step value of changing the frequency of the walkie-talkie in VFO mode. Like you need to connect this GMRS open repeater as below:

just set the channel information as below:

W/N means the width and narrow, narrow means 12.5khz. Then you can solve the problem in connect the repeater, if you still have any problems and questions for our retevis RT76P GMRS radio, please feel free to connect info@retevissolutions.com to get more help.
Now let's share a good comment from American customers on Retevis RT76P GMRS radio:

"Finally solved all the problems with the rt76p. Thank you Today I pass the acid test. We are very happy with the radios. the battery lasts longer than we expected .. Thank you. Congratulations "RETEVIS"."
Welcome to order Retevis RT76P GMRS radio on retevissolutions.com directly or connect retevissolutions to get the best price.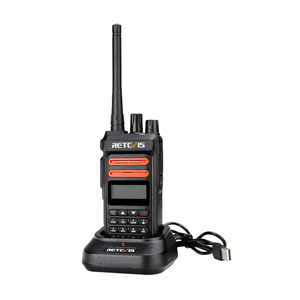 Retevis Solutions is a Retevis team that focus on providing long range walkie talkies and radio solutions. If you have any needs, welcome to contact us in info@retevissolutions, all our retevis solution team will do our best to help you.