In radio application scenarios such as highway tunnels, subways, underground parking lots, and underground commercial buildings, there are often signal blind areas and communication distances that cannot meet the requirements. Combining these application scenarios and limited communication frequency resources, Retevis has launched a new digital single Frequency repeater, Retevis RT74, is specifically designed to solve the problem of excessive occupation of traditional repeater frequency resources.
What is a single frequency repeater?
For single-frequency repeater, only one frequency point is needed to establish a repeater station system, which further improves the saving of frequency resources. Many people in the walkie-talkie industry know that the radio management departments in various places have relatively high requirements for frequency use approval. It is difficult to apply for a repeater frequency in many places (1 pair of frequency points are required), while a single frequency repeater only needs to apply for 1 frequency (the direct frequency frequency applied for at ordinary times) can set up a set of repeater system to expand the communication range of the walkie-talkie. That is, single frequency repeater only needs one frequency to realize the relay function.
The role of walkie-talkies in tunnel construction is very important. Tunnel construction workers use walkie-talkies to communicate with each other on work conditions, scheduling arrangements, construction of engineering vehicles, etc. However, due to the tunnel environment, the distance between the radios during use is greatly shortened, and often encounter situation where no signal is received, it is what we often call a signal blind zone. The traditional relay needs to set a high transmitting frequency and a low receiving frequency. It takes up two frequencies, which greatly occupies frequency resources. In addition, the walkie-talkie needs to be programmed to connect the repeater, which also adds a lot of steps to use, which greatly reduces the works efficiency.
What is Single frequency digital radio solution?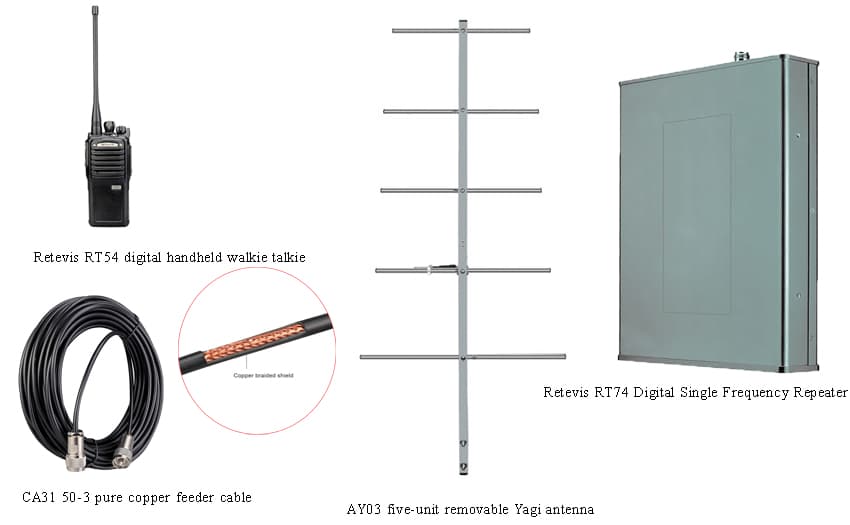 Single frequency digital radio solution
Single frequency digital radio solution is composed of Retevis RT74 digital single-frequency relay and Retevis RT54 digital walkie-talkie, plus high-gain Yagi antenna, and pure copper feeder to form a digital single-frequency repeater radio solution.
What is the features of single frequency digital radio solution in tunnel construction?
1.Retevis RT74 digital single frequency repeater use TDMA protocol, Using dual-slot technology on two time slots of a frequency, one for transmitting and one for receiving, can save the frequency resources of tunnel construction radio.
2.Different from the traditional repeater and low power small relay, retevis RT74 single frequency digital relay provides 20W output power and can achieve longer communication distance without attenuation of duplexer. This is particularly important in tunnel construction, which can greatly improve the radio communication distance and reduce the signal blind area.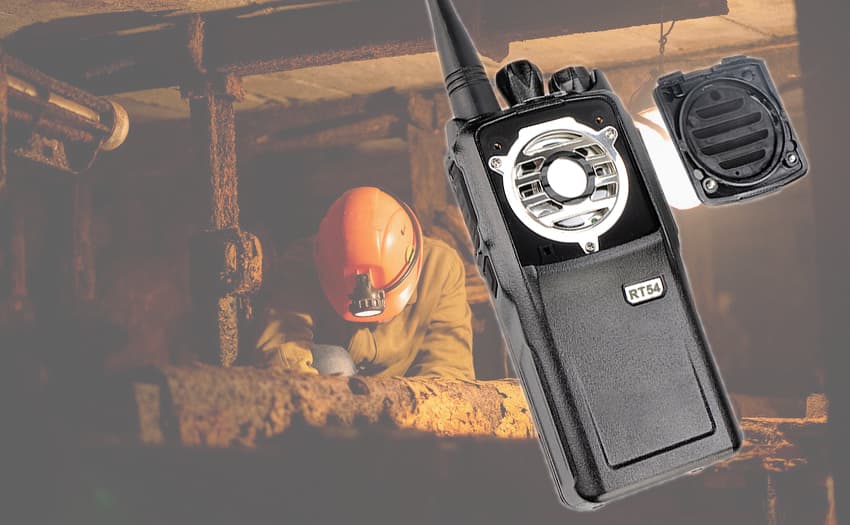 3.Retevis RT54 digital handheld walkie talkie, removable speaker, easy to clean, very suitable for construction environment.
4.The Retevis RT74 single-frequency relay provides a minimalist wall-mounted design device without a fixed chassis. It can be wall-mounted anytime and anywhere. It is very suitable for the construction environment of tunnel construction. It provides a standard antenna interface without custom antenna connectors. Accessories are easy to obtain. No duplexer, built-in power supply.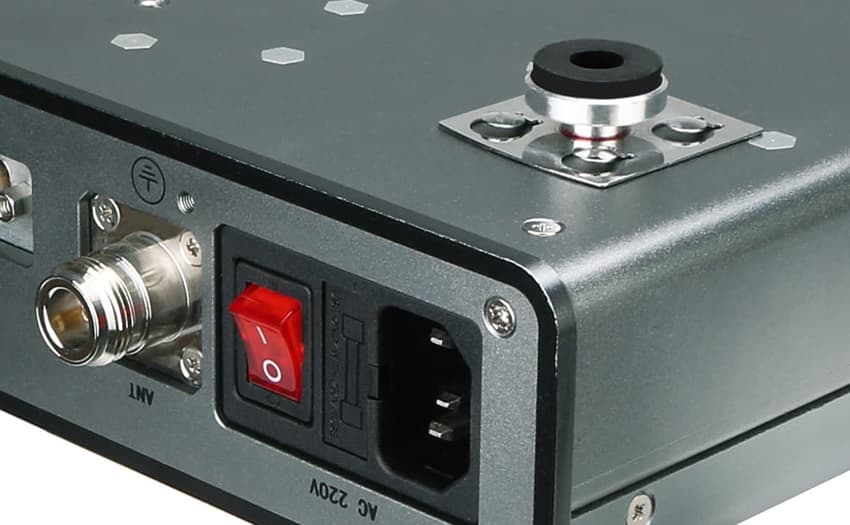 5.In the tunnel construction, the environment is very bad, and power supply has always been a big problem. Retevis RT74 single-frequency relay has built-in high-performance power supply, 110V~240V power supply, and can automatically switch between DC and AC power; also provides 12V power supply Convenient to use mobile power supply.
6.Retevis RT74 digital single frequency relay supports fixed key digital encryption technology, which can not only improve the anti-jamming performance, but also ensure the information security of the call. It adopts 2.0 inch high definition full view IPS screen, showing clear and delicate, and strong light visible, very fit for tunnel construction.
7.High compatibility. If you are not using Retevis RT54 walkie-talkies, don't worry, Retevis RT74 digital single-frequency relays being compatible with motorcycles, Hytera and kenwood DMR digital walkie-talkies. If you are currently using these walkie-talkies, then you you can directly use Retevis RT74 to match your existing radio.
What other scenarios can use Single frequency digital radio solution?
In addition to tunnel construction, highway construction, hospitals, public safety, medical and health, fire rescue, warehouses, shopping malls, hotels, etc., you can choose Single frequency digital radio solution to extend the communication distance and improve information security. Single frequency digital radio solution has a very wide range of applications.
If you have any needs,welcome to contact us,info@retevissolutions.com.