Tag Archives :gmrs repeater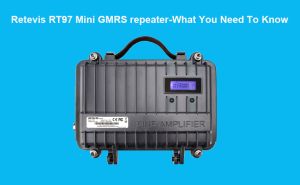 Retevis RT97 is the best selling mini GMRS repeater with FCC certifications, it can be used for hotels, farms, construction sites to help your walkie talkie get longer calling distance, Retevis RT97 GMRS repeater, you can learn more about it to get the best use of it. ...
Retevis RT97
,
RT97 duplexer
,
GMRS repeater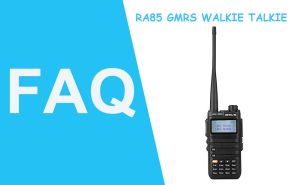 Retevis RA85 is a 5W GMRS walkie talkie with NOAA function, It has a full keyboard, plus a frequency measurement function, is very suitable for outdoor use, and connect to gmrs repeater use, you can use it to meet daily family communication, emergency communications, family outdoor activities,  gmrs ham repeater communication and other activities.  ...
Retevis RA85
,
GMRS walkie talkie
,
NOAA
,
gmrs repeater
,
outdoor walkie talkie
,
Factory default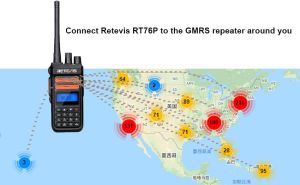 You can connect your GMRS handheld walkie talkie to the GMRS repeater near you, so that your handheld GMRS two way radio can get a longer calling distance, We take Retevis's hottest-selling Retevis RT76P handheld GMRS walkie-talkie as an example to describe how to connect shared repeaters. if you still have any questions and problems, welcome to contact info@retevissolutions.com ...
Retevis RT76P
,
GMRS repeater
,
GMRS radio
,
GMRS walkie talkie
,
Handheld GMRS walkie talkie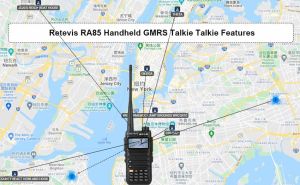 Retevis RA85 gmrs walkie talkie is Retevis new coming gmrs walkie talkie, it has many feature functions, like up to 60 gmrs channels to connect multiple repeaters  around you, which with the same frequency but different tones in different areas., NOAA function, FM function, and large screen. Retevis RA85 is the best-selling gmrs walkie talkie. ...
Retevis RA85
,
GMRS walkie talkie
,
GMRS radio
,
gmrs repeater
,
NOAA
,
FM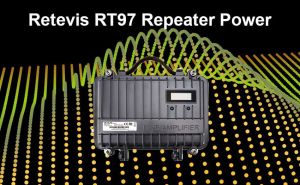 Retevis RT97 mini GMRS repeater is Retevis Best selling repeater, the power of Retevis RT97 is 10W, but some customers feedback it only has 5W output power, so we explain the difference between actual power and rated power from the perspective of professional theory. ...
Retevis RT97
,
GMRS Repeater
,
repeater power
,
mini repeater