*GMRS licensed radio solution
*FCC certification
*FRP fiberglass antenna
*Pure copper feeder cable
FREE shipping on all orders over $100.
---
Fixed GMRS Radio communication solution with FCC certification GMRS Repeater, high gain FRP fiberglass Omni-Directional Antenna, Pure copper feeder cable, make the signal coverage is greater, the signal is stronger, the call distance is farther, suitable for application scenarios such as warehouses, buildings, underground parking lots,etc.
Fixed GMRS Radio communication solution features:
1.Omni directional base station antenna, support UHF and VHF bands, with high gain, wide bandwidth, low standing wave ratio, waterproof, anti-corrosion with high strength and high quality glass steel package, strong wind resistance characteristics, is a kind of ideal communication antenna, antenna design style, easy disassembly and assembly and convenient use.
2.Pure copper feeder cable, super Gainer Low Loss Coaxial Cable, extendable that boosts the signal of your repeater significantly.
3.FCC Certification mini portable repeater, 10W high power, simple and convenient installation, flexible operation, can be operated as fixed or mobile. Through the expansion of the signal of the repeater, the communication distance of the 2W GMRS walkie-talkie is up to 18km.
4.GMRS licensed handheld radio with thickened PC plastic shell achieve the pressure-resistance and wear-resistance; compact and sturdy ensure withstand long-term friction and has better resistance to falling, provide comprehensive coverage and distortion-free communication; supports repeater connection; the strong penetration ensure transmission signal can penetrate layers of buildings and cover every corner.
5.Large capacity case, foam lining and aluminum alloy shell design, lightweight and easy to carry, saving storage space; Rechargeable 1400mAh Li-ion battery provided 8-12 hours continuous work use; battery save function can effectively extend battery life.
Package Include:
1 x Repeater

1 x Charger

1 x Power Supply

1 x Car Charger Cable

1 x Programming Cable

1 x User's Manual

1 x MA02 Antenna

2 x Fixing ring

2 x Fixing screw

1x Case Storage Box
5 x RT76 two way radio
5 x Battery
5 x Belt Clip
5 x Hand Strap
5 x User's Manual
5 x USB Desktop Charger
5 x chager adapter
1 x 15m cable
Repeater Technical parameters:
Specifications
Customizable Frequency Range
GMRS
Channel Capacity
16CH
Channel Spacing
±12.5KHz Narrow/±25kHz Wide
Operating Voltage
DC12V ~24V
Operating Temperature
-30°C~ +60°C
Frequency Stability
±2.5ppm
Antenna Impedance
50Ω
Dimension
260*210*70mm
Weight
1.66kg
Transmitter
Intermediate Frequency
160MHz or 465MHz
Power Output
10W
Modulation
F3E
Spurious Emission
-60dB or less
Maximum Frequency Deviation
Wide: ±5kHz Narrow: ±2.5kHz
Audio Distortion
5% or less
FM Noise
Wide:≤45dB Narrow :≤40dB
Receiver
Intermediate Frequency
150MHz or 455MHz
Sensitivity(12dB SINAD)
0.2μV (Wide) 0.25μV (Narrow)
Squelch Sensitivity
0.15μV (Wide) 0.2μV (Narrow)
Adjacent Channel Selectivity
≥ 70dB (Wide) / ≥65dB (Narrow)
Intermodulation
≥ 55dB
Spurious Rejection
≥ 55dB
Image Rejection
≥ 55dB
FM Ham and Noise
≤-45dB(Wide) / ≤ -40dB(Narrow)
Modulation Type
F3E
Operating Bandwidth
≤±7KHz / ≤±5KHz
Audio Distortion
≤ 5%
Handheld radio Technical parameters:
TECHNICAL PARAMETERS
Product number
RT76
Frequency Range
GMRS
Channel number
30
RF Power
High:5W Low:0.5W
Audio Distortion
<5%
Frequency Stability
±2.5ppm
MAX Frequency Deviation
≤5KHz/≤2.5KHz
Spurious Emission
≤7uW
Modulation Mode
16KΦF3E/ 11 KΦF3E
Reference Sensibility
≤0.25uV/≤0.3uV
Squelch On Sensibility
≤0.2uV/≤0.25uV
Adjacent Channel Selectivity
≥65dB
Spurious Response
≥55dB
Intermodulation
≥60dB
Current
≤1.6A
Working Voltage
7.4V DC
Operating Temperature
-20℃- +60℃
High Gain Glass Steel Omni-Directional Antenna Specification:
| | |
| --- | --- |
| Frequency | 144/430MHz |
| VSWR | <1.5 |
| Impedance | 50Ω |
| Gain | 4.5/7.2Bi |
| Polarization | Vertical |
| Maximum power input | 200W |
| Horizontal beam width | 360° |
| Vertical beam width | 30°/ 19° |
| Connector | SL16-K |
| Radome material | fiberglass |
| Material of hardware-supplied | aluminum alloy |
| Hold pole diameter | Φ30-Φ62 mm |
| Suitable for models | Retevis RT97/RT9550/RT92 |
| Weight | 1150g |
Case Storage Box:
Portable design, you can put down all the accessories

The sharp corners of the box are protected by metal, which greatly improves the reliability and durability of the product.

Applicable if other product sizes are appropriate.

Size: 517 x 317 x 140mm /

Weight: 3100g
Pure Cupper Low Loss Coaxial Extend Cable 15 Meter Features:
It is extendable that boosts the signal of your repeater significantly

Super Gainer Low Loss Coaxial Cable

Suitable for Retevis RT97 repeater

Material: pure copper

Impedance: 50Ω

Return loss: VHF≥20dB UHF≥15dB

Connector plug: SL16

Cable diameter: 5mm / 0.2inch

Cable Length: 15 meter

Weight: 660g
Recommended application scenarios:

1. Restaurants and hotels
Hotel staff communicate with each other through the radio, through the radio's VOX function or wearing headphones, you can free your hands and do not affect normal work, at the same time can meet daily communication, timely communication work, and give instructions. GMRS handheld walkie-talkies can meet three-storey hotels, and the addition of relays makes communication of 30-story or higher buildings no problem, cross-building communication can meet the large area, the number of floors, and underground parking Hotel, hotel use.

2. Property
The staff of the property needs to understand the working status of each position in a timely manner on the radio, monitor the security situation in each place of the community in real time, communicate with each other, report work in time, and report in time when problems are encountered. The communication in the underground parking lot has always been a place where the signal is relatively weak. Through the use of relays, the signal can be covered to the underground parking lot.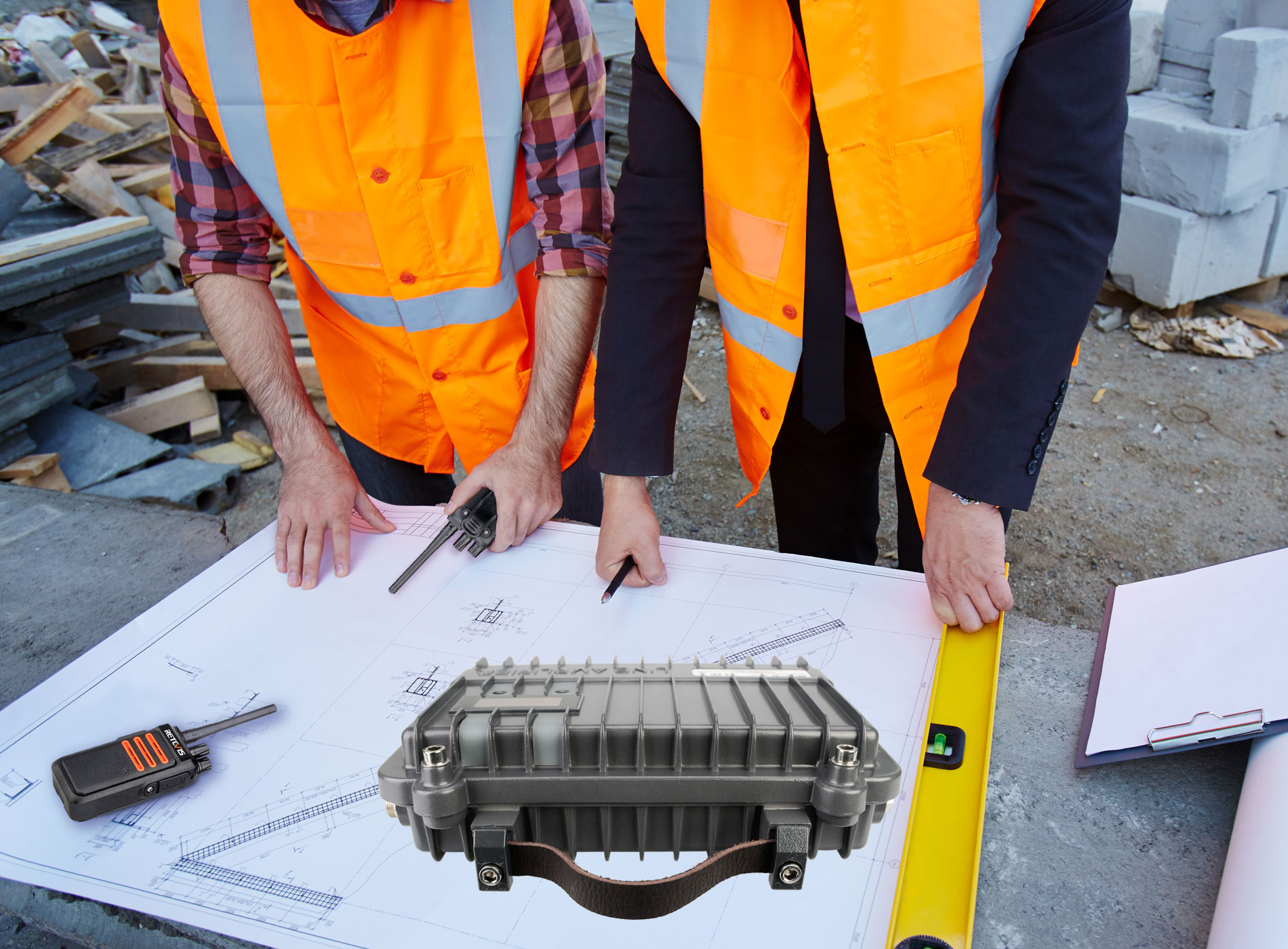 3. Construction site
Construction workers need walkie-talkies to guide the work and receive instructions. Workers communicate with each other. Designers need to communicate construction instructions to construction workers in a timely manner. Aerial operators, crane operators, etc. need to receive instructions on the walkie-talkie in time, or Communicate with operators on the ground to understand the situation, and a complete set of radio solutions can meet everyone's call needs.
4. Hospitals
Hospital guards, hospital parking lots, hospital halls, hospital wards, security inspection patrols, outpatient security inspection patrols need to use walkie-talkies, the hospital's radio signal coverage requirements are farther, and the signal coverage has no dead ends, the addition of repeaters can solve this problem
5. Warehousing
Warehousing employees need to use interphones for inventory, item allocation, and warehouse inspection. The Fixed GMRS Radio communication solution can ensure that everyone's communication needs are met, and it is safe and efficient.

6.Construction
At the construction site, designers and construction workers, and construction workers, mechanical operators need to communicate in time to ensure that the construction is carried out safely, the intercom can free up hands, and does not affect the work, can solve the communication needs of the construction site at low cost . Fixed GMRS Radio communication solution can also ensure that the signal and call distance are not affected by the building.

7. Underground construction
Underground construction is often faced with weak signals and no signal. The Fixed GMRS Radio communication solution can improve the signal lightness and expand the signal coverage. It can solve the communication problems of underground construction and ensure safe, orderly and efficient construction.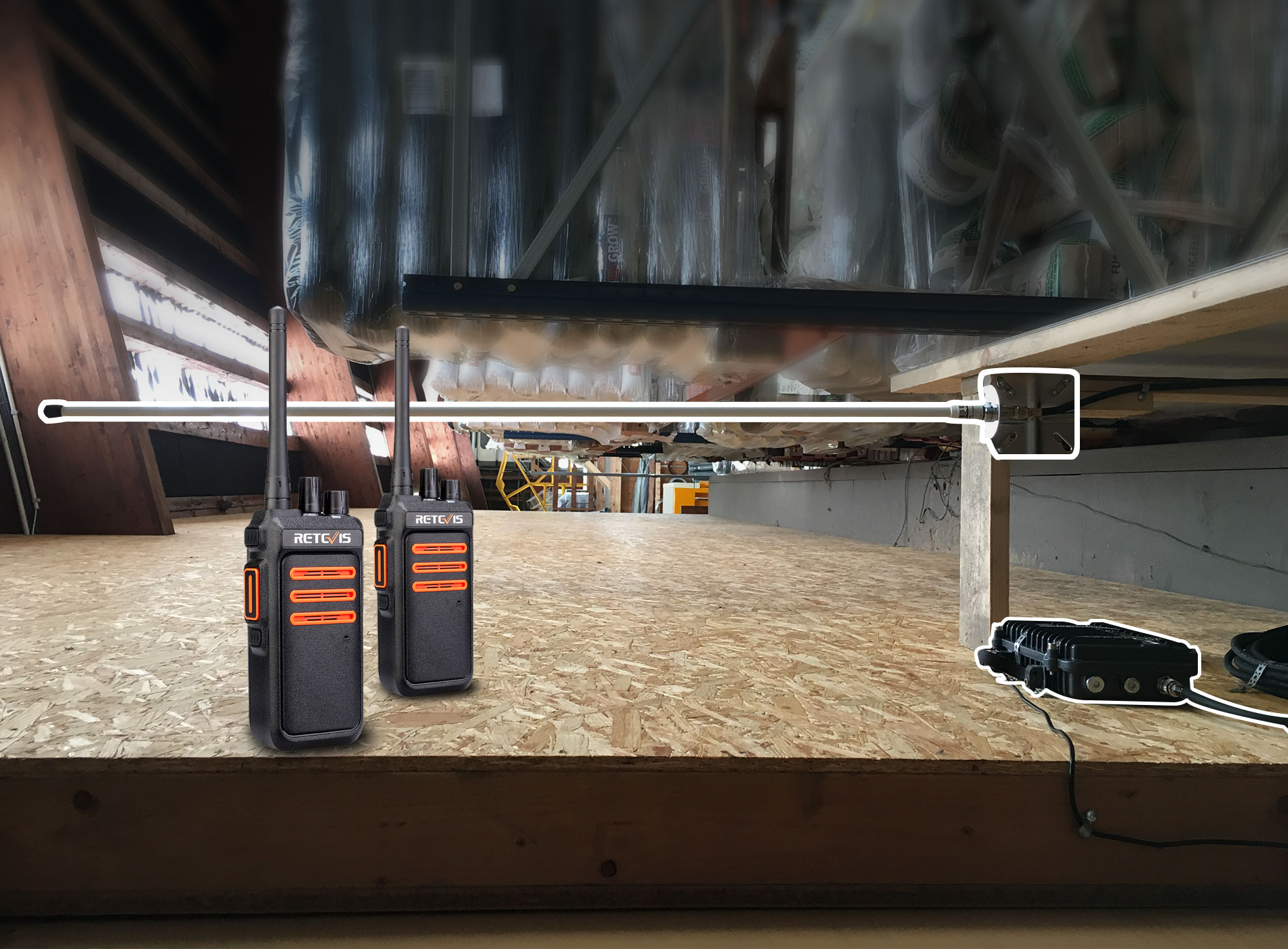 Please fill in your procurement needs and contact information