*Portable GMRS radio solution set
*FCC certification
*Easy to install and simple to operate
*Suitable for family outdoor, off-road, vehicle
FREE shipping on all orders over $100.
---
There are several choices when it comes to selecting a service for family or business communications, including the Citizens Band Radio Service (CBRS), the Family Radio Service (FRS), the Multi-Use Radio Service (MURS), and the General Mobile Radio Service (GMRS). Of these four services, GMRS is arguably the most capable. For example, although many GMRS channels are on the same frequencies as FRS channels, GMRS users can use higher power than FRS users, can set up repeaters to extend the range of their radios
Once you have GMRS permission, there is nothing more exciting than having a whole set of GMRS radio solution set, retevis GMRS radio solution set include repeater,handheld radio,antenna,feeder cable,and portable storage box,customized card slot for repeater, handheld radio and accessories, high space utilization, easy to carry, very fit for long range radio communication in outdoor,the actual test talking distance is 18km in city,if in open area, it will be longer,which can fully meet family and outdoor requirments about the talking distance.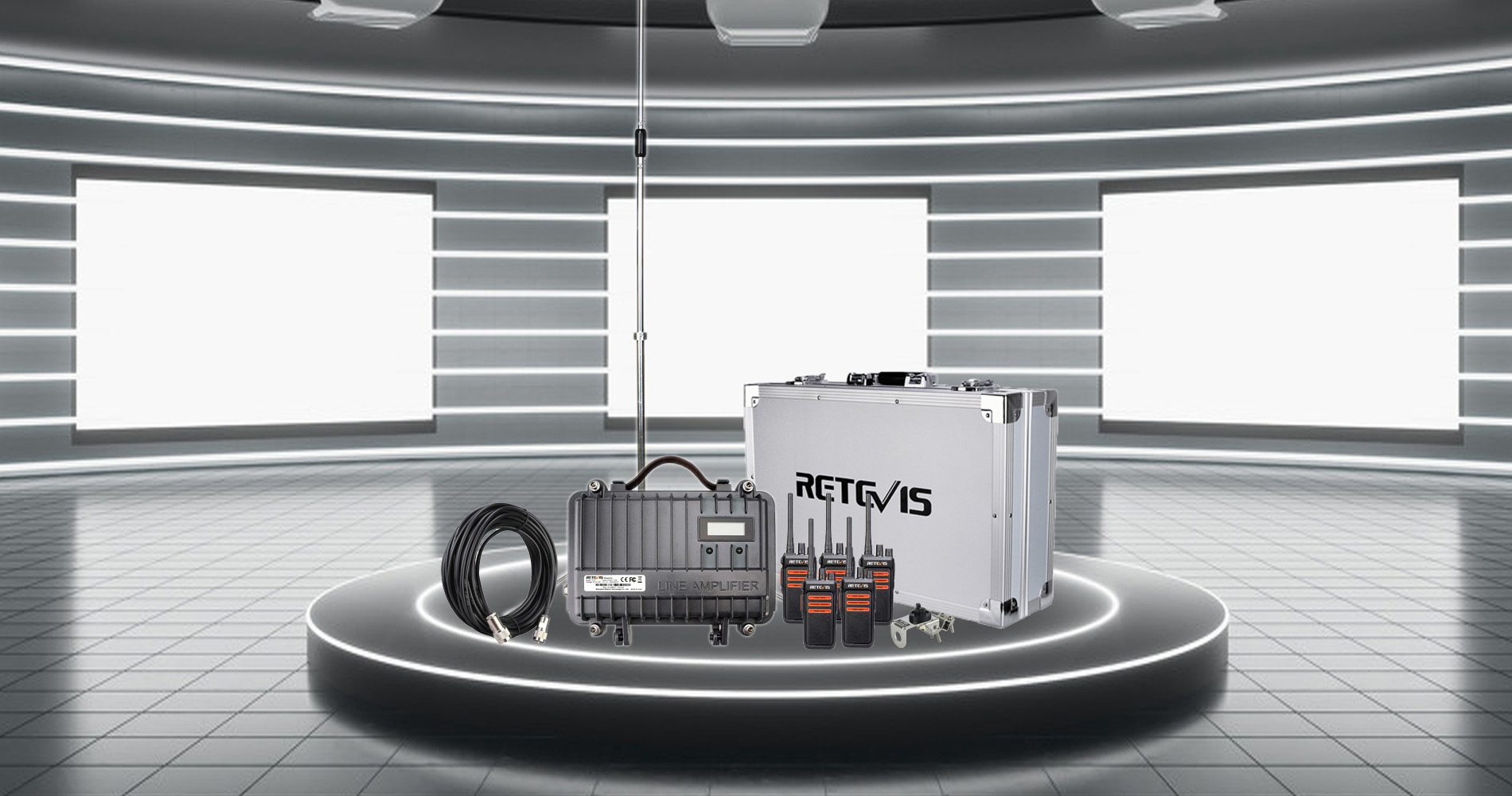 GMRS Radio solution set component:
*Case Storage Box
Used to store hand-held walkie-talkies, accessories, relays, etc., to improve space utilization, and at the same time has the advantage of portability, allowing you to travel more freely with equipment.
*Repeater
GMRS frequency repeater,used to expand the signal and extend the GMRS radio communication distance.
*Omni-Directional Base Station Antenna
Used with the repeater, can be used as a fixed base station or installed in the car,as a car antenna. It can be switched indoors or outdoors at will. Easy to install and easy to carry.
*GMRS Hand held radio
This solution defaults to 5pcs handheld radio, of course, you can have more, if you want more handheld radios, please contact us.
*Feeder cable
Used to connect the repeater and the antenna, the default length is 5 meters, can meet the general needs, if you want longer, please contact us.
*Mount clip
Used to fix the antenna to the vehicle to prevent the antenna from loosening due to excessive speed or uneven road during travel.
Repeater Technical parameters:
Specifications

Customizable Frequency Range

GMRS

Channel Capacity

16CH

Channel Spacing

±12.5KHz Narrow/±25kHz Wide

Operating Voltage

DC12V ~24V

Operating Temperature

-30°C~ +60°C

Frequency Stability

±2.5ppm

Antenna Impedance

50Ω

Dimension

260*210*70mm

Weight

1.66kg
Transmitter

Intermediate Frequency

160MHz or 465MHz

Power Output

10W

Modulation

F3E

Spurious Emission

-60dB or less

Maximum Frequency Deviation

Wide: ±5kHz Narrow: ±2.5kHz

Audio Distortion

5% or less

FM Noise

Wide:≤45dB Narrow :≤40dB
Receiver

Intermediate Frequency

150MHz or 455MHz

Sensitivity(12dB SINAD)

0.2μV (Wide) 0.25μV (Narrow)

Squelch Sensitivity

0.15μV (Wide) 0.2μV (Narrow)

Adjacent Channel Selectivity

≥ 70dB (Wide) / ≥65dB (Narrow)

Intermodulation

≥ 55dB

Spurious Rejection

≥ 55dB

Image Rejection

≥ 55dB

FM Ham and Noise

≤-45dB(Wide) / ≤ -40dB(Narrow)

Modulation Type

F3E

Operating Bandwidth

≤±7KHz / ≤±5KHz

Audio Distortion

≤ 5%
Handheld radio Technical parameters:
TECHNICAL PARAMETERS

Product number

RT76

Frequency Range

GMRS

Channel number

30

RF Power

High:5W Low:0.5W

Audio Distortion

<5%

Frequency Stability

±2.5ppm

MAX Frequency Deviation

≤5KHz/≤2.5KHz

Spurious Emission

≤7uW

Modulation Mode

16KΦF3E/ 11 KΦF3E

Reference Sensibility

≤0.25uV/≤0.3uV

Squelch On Sensibility

≤0.2uV/≤0.25uV

Adjacent Channel Selectivity

≥65dB

Spurious Response

≥55dB

Intermodulation

≥60dB

Current

≤1.6A

Working Voltage

7.4V DC

Operating Temperature

-20℃- +60℃
Antenna Technical parameters:
| | |
| --- | --- |
| Brand | Retevis |
| Model | MA01 |
| Color | Silvery White |
| Frequency | 390-470MHz |
| Gain | 4dBi |
| Support Power | 100W |
| S.W.R | <1.2 |
| Element | 3 |
| Length | 45.7inch(116cm) |
| Weight | 0.748kg |
GMRS Radio solution set Application:
Family travel, off-road: complete accessories, can be directly installed and used, the repeater includes a car charging cable, you can directly use the car cigarette lighter power supply, because the addition of the clip makes the whole system more robust, can resist bad weather, bad road conditions to make your travels worry-free.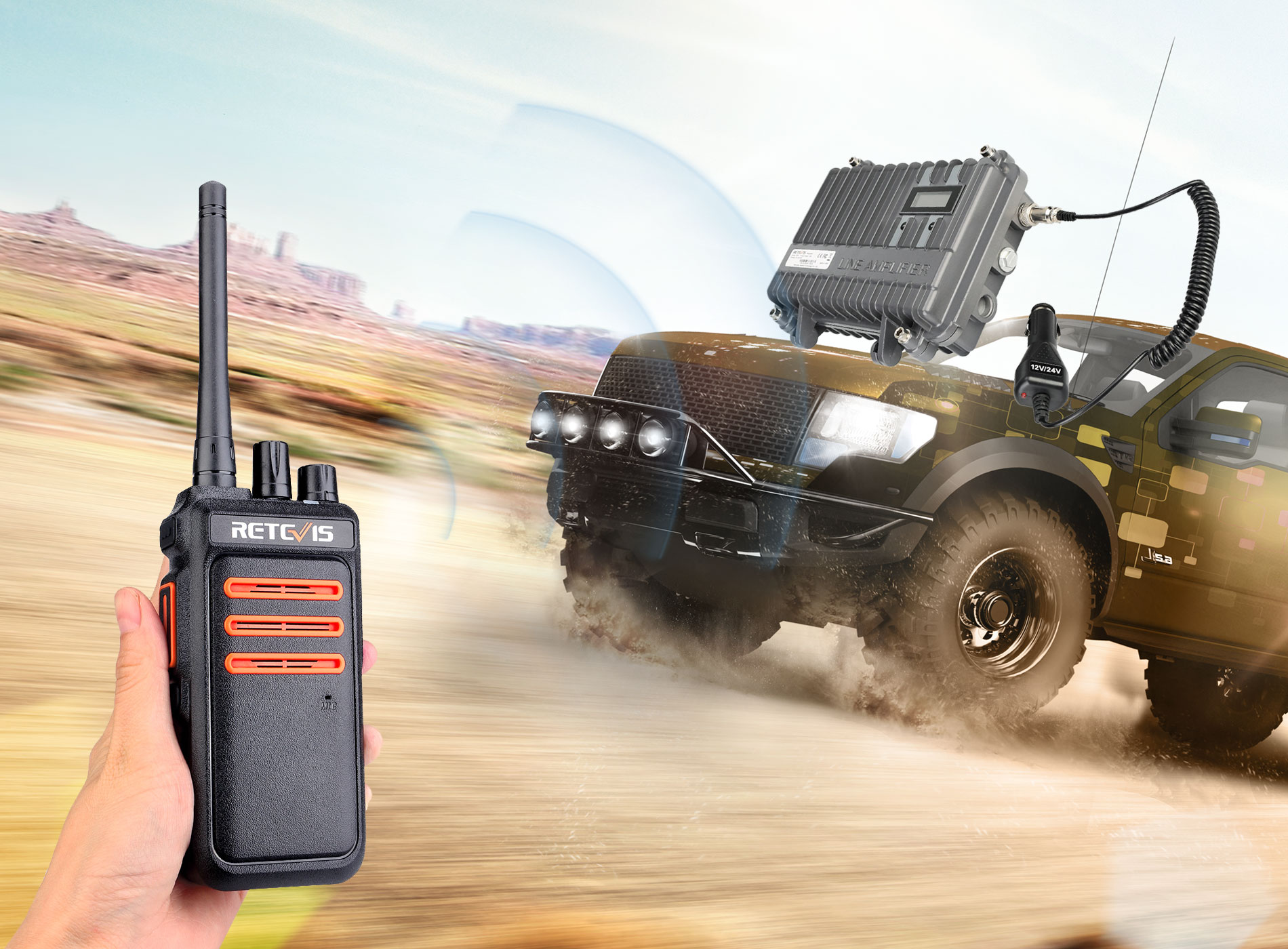 Family outdoor activities:The GMRS radio solution set with carrying case,can hold hand-held walkie-talkies, accessories, repeater, etc.You can take them to any place you want to go. It is really great. There is no need to worry about carrying a lot of parts.
Once you reach a perfect place, everyone can bring the handheld walkie-talkie to start their activities and maintain communication with each other. The communication distance of GMRS radio solution can reach 18km in urban areas, if it is in an open area, it can reach 20km or even further. Can fully meet the requirements of family outdoor activities on the call distance. Not only parents can rest assured, children can also release their nature and get close to nature, because all of us keep in touch.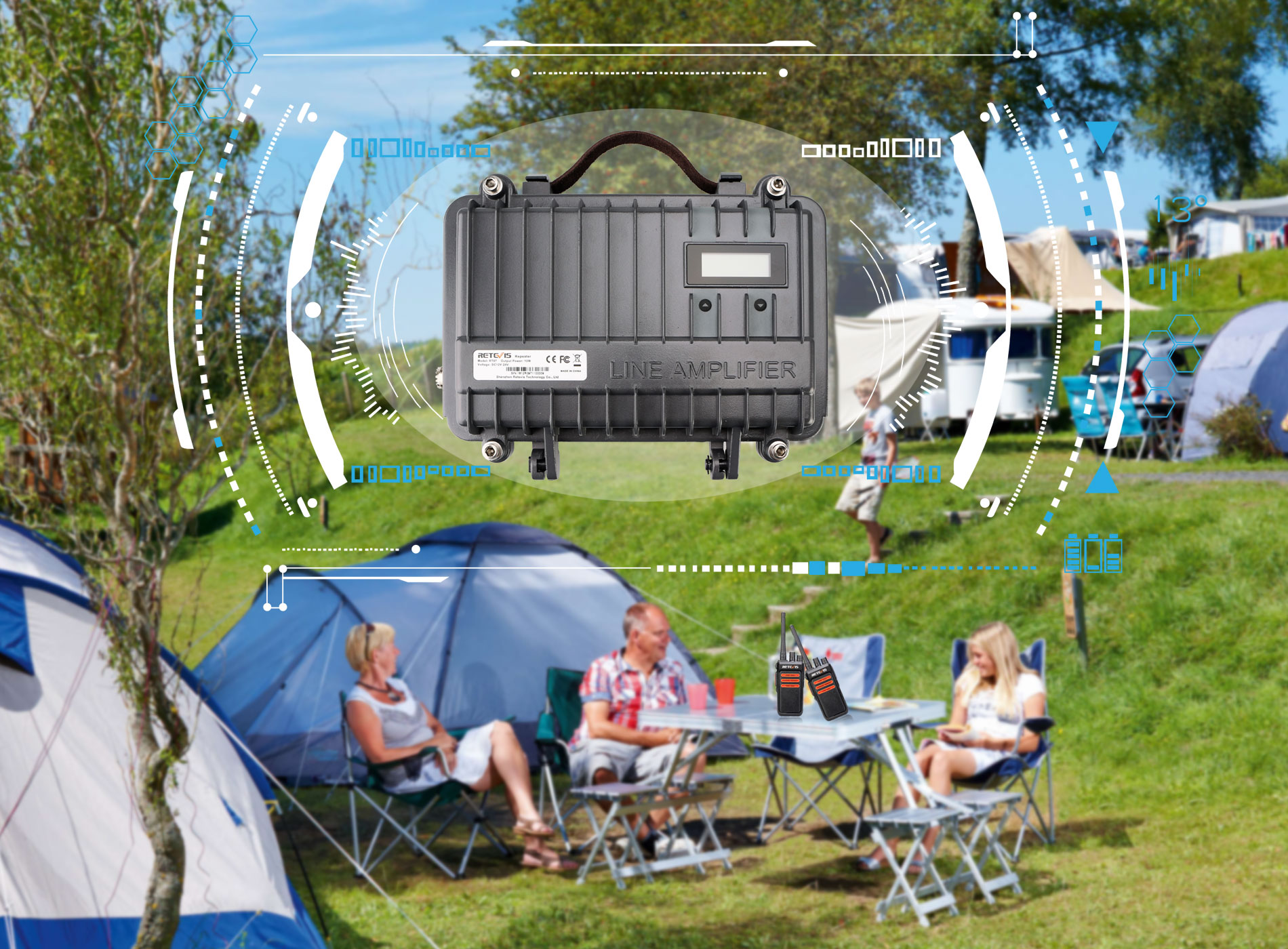 Bring it, take a trip,with your family.
Please fill in your procurement needs and contact information