Long Range GMRS radio solutions kits, fit for farm size from 1,000 acres and 10,000 acres. up to 12km talking range, help you to build long range radio communication system for farms, ranch, golf course, etc.
FREE shipping
---
Retevis RT97 Long Range Farm GMRS Radio Solution Bundles
This Retevis RT97 Long Range Farm GMRS Radio Solution Bundles is a long range high-quality farm radio communication solution kit, it is a complete radio solution kit for large farms, the farm size in 1,000 acres and 10,000 acres or over. With this Retevis RT97 long-range farm radio communication kit, your farm communication can become easier. This radio solution kit contains convenient and easy-to-use GMRS handheld radios and mobile radio, making communication from tractor operator to field support a button push away, the GMRS repeater used to extend the GMRS radios talking range, which make large farm communication become easier.
Features:
Long Range GMRS Rsadio solution kit.
The GMRS handheld radio can reach over 12km after use the Retevis RT97 Repeater(The specific results are affected by the using environment), it can help large farms to solve communication needs, make long-distance talking easier.
10W Retevis RT97 GMRS repeater use to extend the GMRS radio talking range.
Retevis RT97 GMRS repeater is also the best selling GMRS repeaters in the US, its size is only 310x283x170mm, the net weight is only 1.66kg, it is very mini and compact, convenient to carry, make it very useful for farm use and build mini base stations to extend your farm radio talking range.
Retevis RT76 GMRS Handheld radio
The Retevis RT76 GMRS walkie-talkie is a 5w compact two way radio, with simple design, easy operation, it is very fit for farm talking, the VOX Hands-free and convenient one-touch talk (PTT application can communicate with all workers and drivers in real-time make farmers communication become easy.
Sturdy and drop resistant GMRS radios
Retevis RT76 GMRS handheld and Retevis RA25 GMRS Mobile are both sturdy and drop resistant, making them very fit for agriculture farm use, they can help you have continuous communication in busy sowing and harvest season.
Large capacity battery for long time use
The Retevis RT76 GMRS walkie talkie with 1400mAh lithium-ion battery, can be used for 10-12h, and will not be trapped in the scene and unable to communicate due to insufficient handheld radio battery, the original USB charging base is more convenient, it can help you charge the radio anytime, anywhere.
Program cable include
This Long Range GMRS Radio solution kit not only includes the Retevis RT97 GMRS repeater program cable but also includes program cable for Retevis RT76 GMRS handheld radio and Retevis RA25 mobile radio.
Earpiece include
This Long Range GMRS Radio solution kit includes an earpiece for the Retevis RT76 GMRS handheld radio, you can use it depending on your needs.
How to install a large farm radio communication system to extend your talking range?
1. Place the MR004 antenna in the center of the using place, and in a relatively high position, such as the top of the house, the top of the mountain, or the top of the silo, etc.;
2. Use CA31 low loss feeder cable to connect Retevis RT97 repeater and MR004 GMRS antenna;
3. Adjust the Retevis RA25 GMRS mobile radio and Retevis RT76P hand-held radio to 23-30 channels to connect the Retevis RT97 GMRS repeater. If you need to know the frequency settings, please download the Program software and manual from the corresponding product list Download part.
4. After the installation is complete, press the PTT button of GMRS Radio to test whether it is connected and the sound quality is clear.
Applications: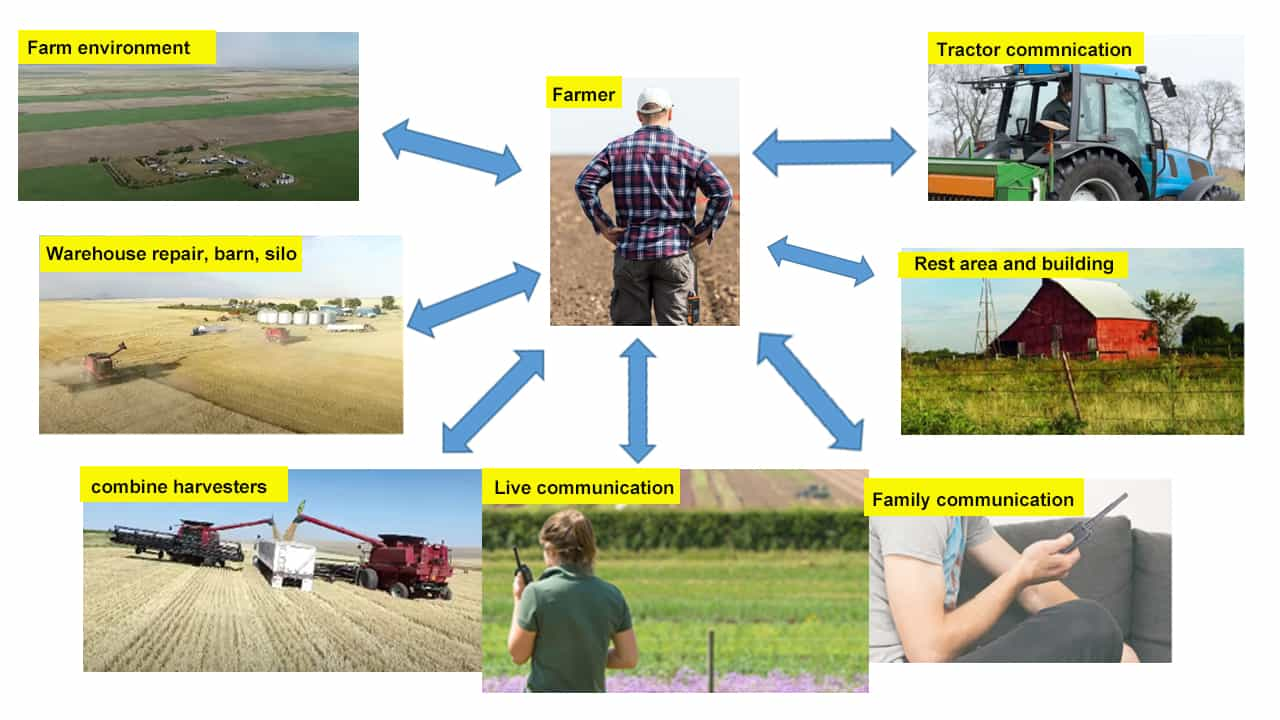 Communication between the Farmer and the operators(handheld gmrs radio and mobile gmrs radio)
Combined operations, such as harvesting scenes, one harvester, one tractor tow three buckets, and the next one is replaced when it is full. Then there are trucks nearby to receive, and the truck can directly pull the bucket away; the harvester and tractor work in parallel, you can use RA25 mobile gmrs radio or RT76 Portable gmrs radio;
Plain planting farms have a need for communication, and the environment in which they are located is actually very suitable for communication. Because there is no block and electronic signal interference, a professional GMRS antenna, it can meet the needs of communication. Retevis MR004 6dBi high-gain antenna is very suitable for GMRS communication solutions.
Animal husbandry and forestry irrigation are in the mountainous area, and the signal is blocked, while the agricultural area is concentrated in the western mountainous area. It may not be completely satisfied by relying on mobile radio and handheld radio, and a complete set of long-distance communication sets is required.
In the entire agricultural activities, the farmer will complete work distribution, scheduling, supervision, etc., running back and forth in the office or driving, in fact, he only needs RA25 mobile gmrs radio or handheld gmrs radio, but if the management of large or multiple farms, He needs to cross different areas. At this time, GMRS relay is the most suitable choice.
Establish a continuous, clear and important communication channel. Communicating in real time is an excellent way to increase productivity and relieve the pressure of yelling to convey information.
Use handheld gmrs radio talk to the family when going out
Farmers go far away and usually need to drive long distances. The farms are empty and sparsely populated. In many small farms, most of them are family units, with their own tool houses and agricultural machinery rooms, and they also act as farmers and machine repairers. , Business and other different roles; sometimes it is necessary to drive a work truck to fertilize, spray, harvest, etc., because there is a certain distance from the house, and the mobile phone signal of the farm itself is not very good, and it needs to rely on the vehicle and terminal communication, but they The communication is not entirely used for work communication. The use of communication equipment is largely an emergency equipment, and it is necessary to keep in touch and talk with family members at all times;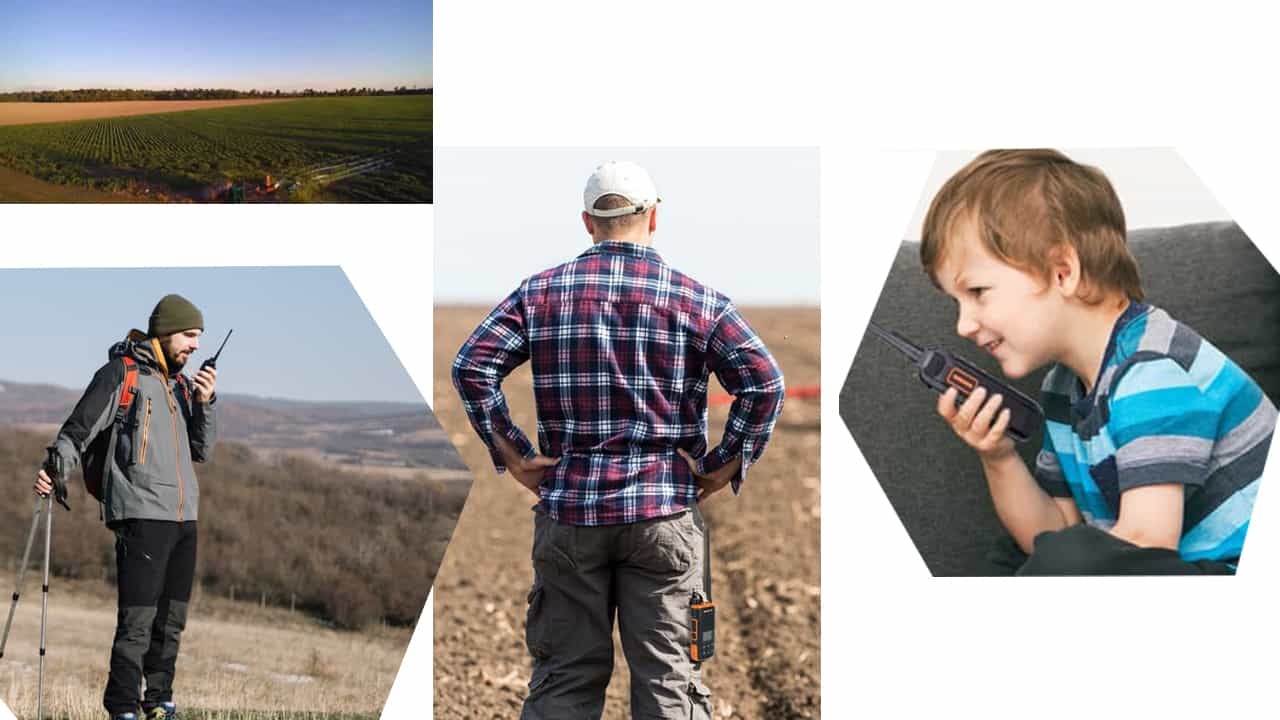 Tractor/combine harvester and other working equipment use mobile gmrs radio
The farm's operating machinery is usually very large and the cab space is large. We need to install the mobile gmrs radio on the steel frame; RA25 mobile gmrs radio has a matching desktop stand, which can be installed in the driving space of the mobile gmrs radio.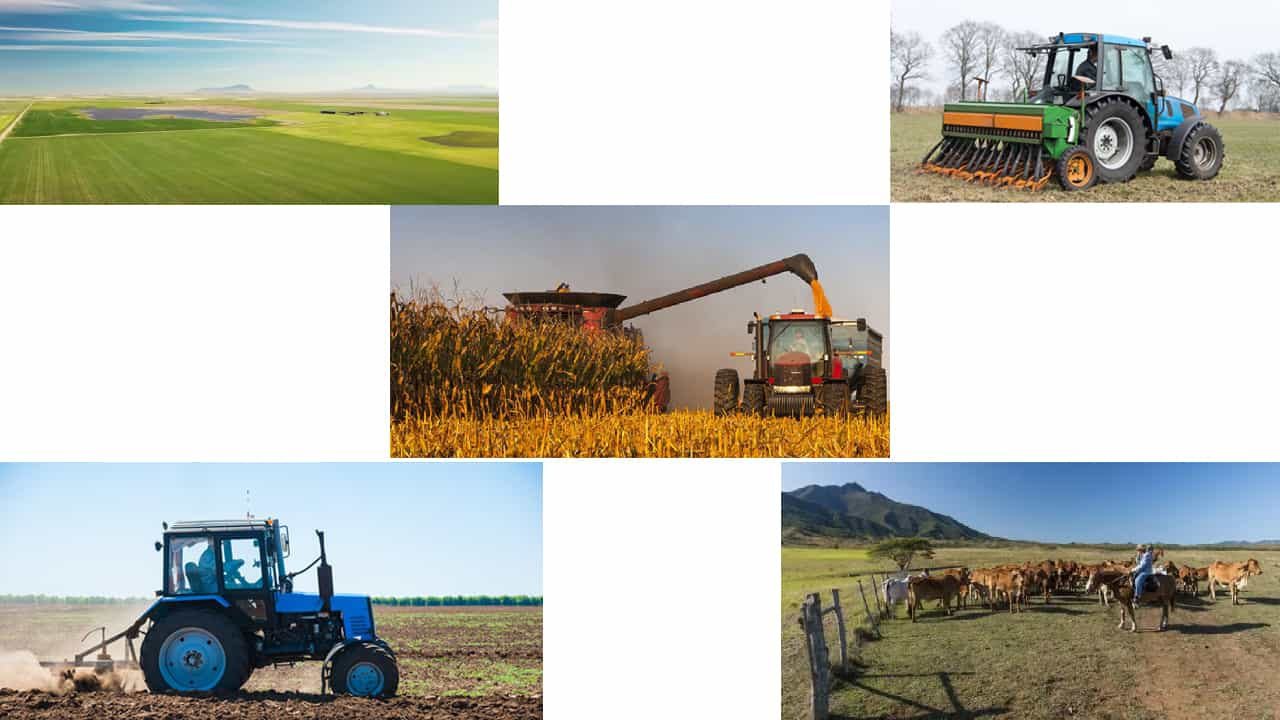 GMRS repeater meet the long calling distance
In the United States, large farms have plains and mountains; some farmers have several or even more than a dozen farms, but they generally focus on certain types of crops or supporting agriculture and animal husbandry; the farm manager needs to travel around every day Between different farms; the average size of American farms is 433.6 acres, the large scale is more than 2,000 acres, and the communication distance must reach 6-10km. When they cross towns and farms, they need at least dozens of kilometers of communication. It is also necessary to use relays in different areas to make calls. The application of the Retevis RT97 GMRS repeater in the communication package allows the entire radio solution set to meet the signal coverage requirements of farms of all sizes.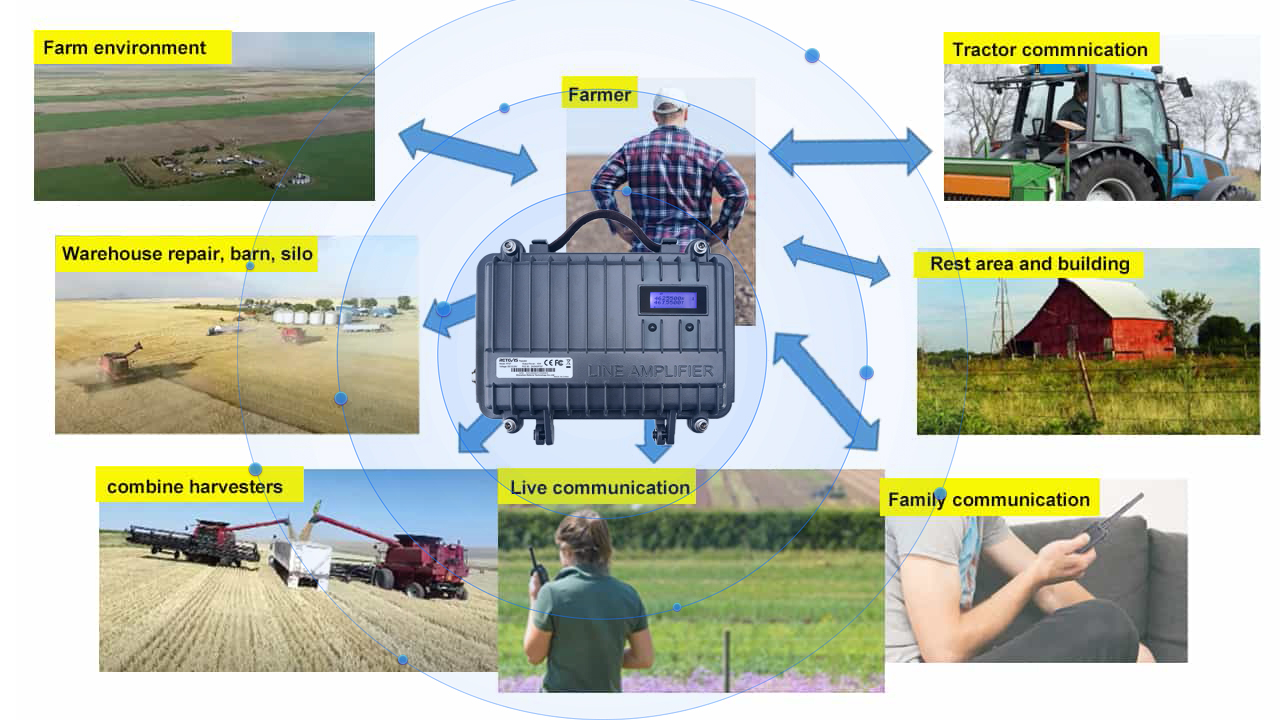 Complete accessories to meet the needs of multiple scenarios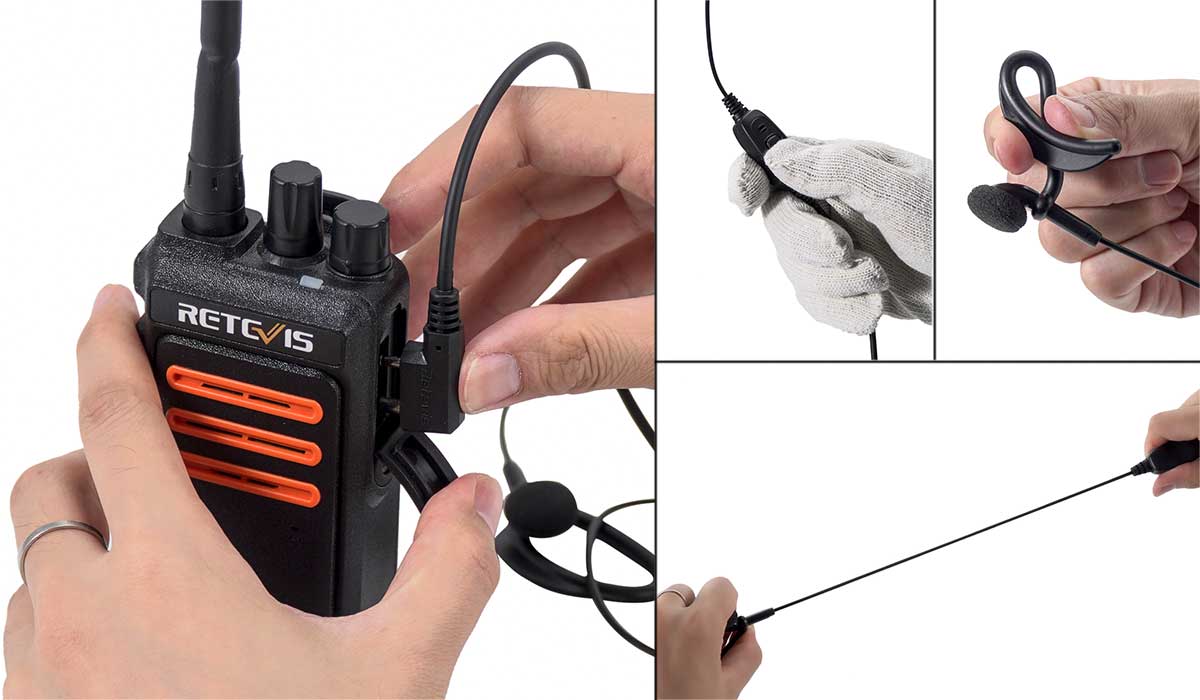 Package Include:
2 X Retevis RT76 GMRS handheld Radio
1 X Retevis RA25 GMRS mobile radio
1 X Retevis RT97 GMRS repeater
2 X EEK008 2pin Earhook Earpiece
1 X MR100 Magnet mount & antenna for Mobile Car Radio
1 X 15 meters pure copper Low Loss Coaxial Extend Cable
1 X USB program cable
1 X RA25 program cable
Please fill in your procurement needs and contact information