Retevis RB26 GMRS Radio with Powerful Torch Light, large aperture lighting, Not only can meet the communication, but also meet the lighting at night. It is very suitable for outdoor activities, such as camping, hiking, mountain climbing, etc. It is also very friendly to members of the family farm..
Compatible with all Retevis GMRS Radios, can talk with other Brand FRS/GMRS after settings.
GMRS Repeater Capable
FREE shipping
---
Retevis RB26 GMRS Walkie Talkie with Powerful Torch Light For Camping
Retevis RB26 GMRS walkie talkie is the best selling GMRS radio in the Retevis brand, it is a mini-compact and simple use GMRS walkie talkie with a large powerful flashlight can meet outdoor communication and security lighting needs, it can meet family outdoor camping and hiking communication needs, also the best choice for family farm daily communications, the 8 GMRS repeater channels can help you get longer calling distance, help you in emergency situations.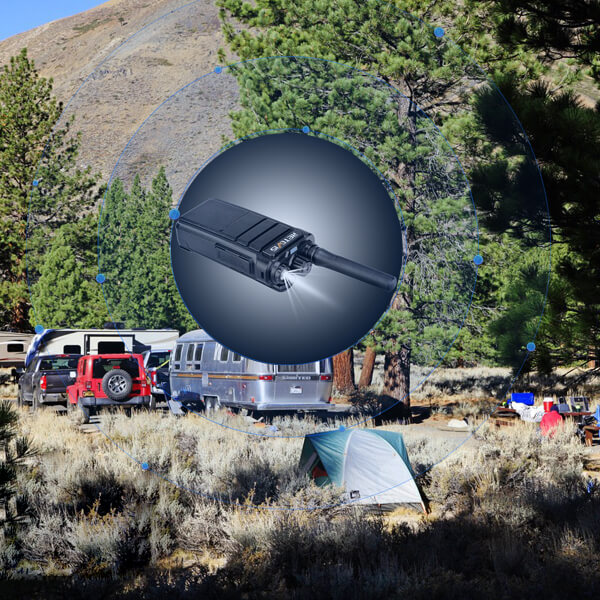 Retevis RB26 GMRS Walkie Talkie Features
Two Year Warranty

Full 3 Watt GMRS Radio

30 GMRS Channels

8 GMRS repeater capable channels

260 Privacy Codes - Bring you safe calls without interruptions.

Wireless Copy Function-help you get in touch with other RB26 GMRS radio users without programming software.

Powerful Torch Light, large aperture lighting, Provides lighting for night events, making outdoor activities safer.

Emergency alarms protect your safety when you need help, and keep your camping activity safe.

VOX-hands free for talking for camping convenient use.

SQL-Allows you to adjust the squelch level according to the using environment for clear communication.

bandwidth adjustable-wide and narrow band available.

USB Charging Base and Type-C USB charging Cable.

GMRS License Required

FCC ID: 2ASNSRB26

Dimensions- 4.17 x 2.4 x 1.34 inches
Package Includes
1X Retevis RB26 GMRS Walkie Talkie

1X 2000mAh rechargeable Li-ion battery

1X Belt Clip

1X Hand Strap

1X USB cable

1X Desktop Charger

1X Charger adapter

1X User's Manual
Simple and easy use Professional GMRS Walkie Talkie
Retevis RB26 GMRS walkie talkie with 30 default channels (22 GMRS channels for communicating with other FRS/GMRS radios directly, 8 channels for GMRS repeaters to get longer talking distance). no screen design, one key to achieving face to face communication, very easy and simple to use, and suitable for people of any age.
Clear Sound GMRS Radio
This Retevis RB26 GMRS radio use BK4818 RF Chip, zinc alloy firmware, brings you high sound quality in any environment.
CTCSS / DCS Function
Retevis RB26 GMRS walkie talkie with 50 groups of standard analog sub-audio CTCSS/QT; 210 groups of standard digital sub-audio DCS/DQT, You can turn it off to receive all the signals of the frequency; you can also choose the value according to your needs to increase call security without being disturbed; you can also set the same value as other GMRS Radios to achieve interoperability.
VOX and VOX delay function
Retevis RB26 With VOX and VOX delay function, you can enjoy automatic activation by voice and hands-free operation when you need hands to do things, The VOX delay function allows time for the radio to react, making your call more complete.
USB Charging Base and Type-C USB charging Cable
Retevis RB26 supports Type-C charging cable charging, and USB-C charging base charging, whether indoor or outdoor, making it easier to get charging.
2000mAh Rechargeable battery
Retevis RB26 GMRS Radio's original battery is a 2000mAh Large Li-ion rechargeable battery, you can use it for hours after full charging. long using and standby time make it very fit for outdoor needs.

Eliminate the tail tone
Retevis RB26 GMRS radio tail tone eliminates function to help you avoid the impact noise from the loudspeaker at the end of the call, bringing you a more comfortable calling experience.
More Practical Features:
Monitor;
Key locks;
Scan;
TOT.
Retevis RB26 GMRS walkie talkie Technical parameters:
Specifications:
Frequency Range
GMRS
Memory Channel
30
RF Power
<3W
Battery
Li-ion 2000mAh
Frequency Stability
±2.5ppm
Audio Distortion
<5%
Maximum Frequency Deviation
≤5KHz/≤2.5KHz
Remnant Radiation
≤7uW
Modulation Mode
16KΦF3E/ 11 KΦF3E
Noise-free Sensitivity
≤0.2uV/≤0.25uV
Reference Sensitivity
≤0.25uV/≤0.3uV
Inter-Modulation
≥60dB
Adjacent Channel Selectivity
≥65dB
Spurious Response Rejection
≥55dB
Electric Current
≤1.3A
Working Voltage
3.7V DC
Retevis RB26 Brochure
Retevis RB26 Programming Software
Retevis RB26 English Manual
Please fill in your procurement needs and contact information
i like this flashlight
I use this in the warehouse. The radio with the screen didn't seem to be loud enough. This is good. Great little lightweight radio. It does the job nicely! I especially like its flashlight, and 3w is enough for me
Great GMRS Radio
These are really great gmrs radios. I bought two, they are small but the 3 watts really gets through! I use them talk with each other out of the box, they also can be programmed via software on a Windows computer, and it took a few minutes to program the private code to free me from distractions. There is a repeater channel for my city, the repeater for my city is one that uses a CTSS tone and I visit another city that uses the same repeater channel by changing tones. GREAT radios!!!
Works well and very clear.
This radio has very good audio, I can hear it clear. Works for me when camping and talking to my sons on the road.
Excellent radios at a very good price
I bought two of these radios for use in outdoor camping. They are excellent radios especially for the price. The sound quality is good. They are an excellent deal. With frequent transmitting, most of the battery power is still remaining at the end of a good day. I have gotten the range I expected, after all, its power is only 3W.