A combination of 10W DMR Two Way radio and 10W DMR repeater for long distance commercial use, brings you long talking distance, safe, stable, and clear calls.Suitable for large warehouses, construction, security, construction sites, farms, etc.
Free Shipping
---
Retevis RT97P DMR Repeater and RT81 DMR Radio Long Range Bundle
This is a long-distance DMR radio bundle for large business communication use, the Retevis RT97P 10W DMR Repeater and the best selling Retevis RT81 DMR 10W radio bundle can supply up to over 15 miles long distance talking range(The specific call distance depends on the usage environment), the simple and easy-to-operate long-distance DMR walkie talkie plus mini compact DMR repeater, it is possible for you to have long-distance, safe and stable communication. It is widely used in business, construction, security, farms, etc. to improve the efficiency of communication and ensure Safety.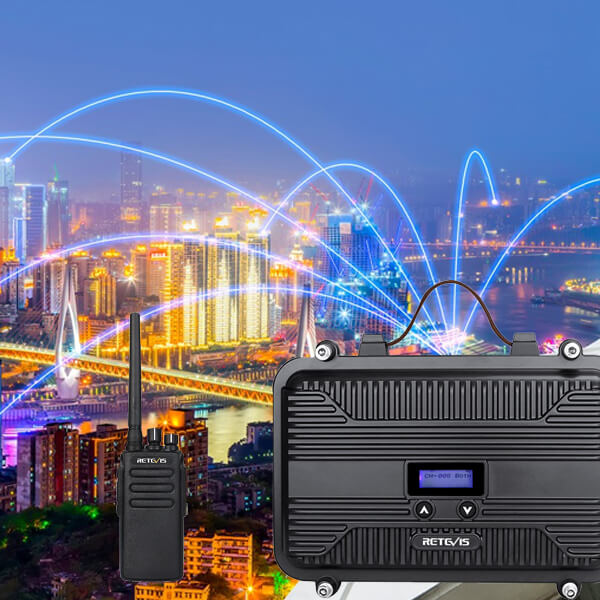 Retevis RT97P and RT81 Radio Bundle Features
Two Year Warranty

UHF/VHF Optional

RT81 Radio and RT97P repeater all compatible with digital analog mode.

32 DMR two-way radio channels and 16 repeater channels, It can not only meet the needs of direct communication but also meet the needs of long-distance calls with repeaters.

RT81 has built-in digital and analog two signal modes, and 32 channels, each channel can define one of the modes for use.

In analog mode, this radio bundle can be called with any radio of the same frequencies and CTCSS

In digital mode, this radio bundle can be called with any walkie-talkie with Standard DMR Tier 2 Protocol and Vocal Code Ambe + 2TM

Single call / Group call / All call, make communications more efficient.

10W handheld radio power, 10W(Duplexer Rated Power) repeater

2200mAh DMR radio large battery capacity for long time use and long standby.

IP67 waterproof and dustproof DMR radio for can be used in any environment, no matter indoors or outdoors, in all kinds of weather.

282 private codes(50 CTCSS/ 116*2 DCS) and scrambler codes, bring safe calles.

No keypad simple design for easy use.

two Side key definition

Channel switch, power switch/ volume control

RT81 DMR radio dual time slot, can set two calls at the same time at the same frequency,

multi-person communication is more convenient.

Sturdy design, resistant to drop and wear, easy to operate.

compatible

with all other analog and DMR walkie talkies; directly communicate with other walkie talkies by setting the frequency and tone codes through computer software.
Package Includes
1X Retevis RT97P DMR Repeater

1X UHF base station antenna

1X 15 meters feeder cable

1X RT81 Program Cable

1X User's Manual
Please fill in your procurement needs and contact information