Long Range GMRS walkie talkie and compact GMRS repeater solution set for family farm vacation, farm camp, farm experience, family farms, family ranches, pasture, resort, and mountain resorts.
FREE SHIPPING
---
Retevis RT97 GMRS Repeater and RT76P GMRS Walkie Talkie Bundle
Retevis RT76P GMRS walkie talkie can meet the daily communication of farm members. For farms that provide farm camping, farm experience, and farm vacation services, Retevis RT76P can be provided to guests who come to the farm for vacation to meet the radio communication of various groups of farm tourists. It is also possible to set up farms through RT76P 's public call channel to send farm notifications and ensure the safety of visitor activities. The Retevis RT97 GMRS repeater is used to extend the talk distance of the Retevis RT76P GMRS walkie Talkie, so that the radio communication of the farm can be in a larger range and avoid signal blind spots.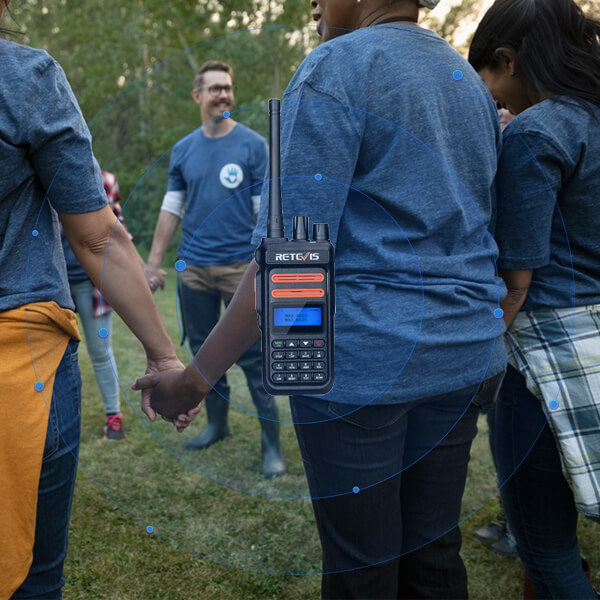 Retevis RT97 and RT76P GMRS Walkie Talkie Bundle Features
Two Year Warranty

128 GMRS Channels and

282 Privacy Codes can provide exclusive call channels for different family groups without disturbing each other, so that each family can get private and stable outdoor communication on the farm.

RT76P GMRS Handheld radio DTMF function can achieve for single call, group call, all call, suitable for farm managers to manage visitors to the farm, organize events to notify, and to ensure the safety of visitors.

LCD Display and full keypad design, very suitable for operation and use by personnel of all ages, which is beneficial to the farm environment, and the radios are temporarily set to meet the needs of the setting.

VOX function frees your hands, speaks directly, can activate the transmit, and free your hands so that tourists' farm experience activities will not be disturbed.

11 NOAA channels help you get weather forecasts in time on the farm and keep outdoor activity safe.

Dual-band, dual standby, and dual display can highly improve talking efficiency, Clients can keep in touch with their families while staying connected to the farm's public channels.

Emergency Alarm function can best help to keep all the member's safety on the farm, when you need help, Emergency Alarm will help you get in touch the first time.

0-9 Squelch level helps you get clear calls in differenct farm activities, no matter if it is camp, Construction, Carpentry, Artists in Residence, or Environmental Sustainability.

VFO frequency and channel mode help people with different display needs.

Narrow and Wide Band adjustable

3 backlight colors(blue, orange, purple) allow you to view the screen comfortably in any farm environment, indoor or outdoor, rainy or sunny.

FM function can meet the needs of outdoor entertainment

Retevis RT97P GMRS repeater can extend the Retevis RT76P GMRS walkie talkie up to 15km(Actual distance depends on usage environment)

Other Feature functions:

scrambling;

compander; Monitor; Scan; Beep; Auto-lock; keypad lock; 1000hz, 1450hz, 1750hz, 2100hz selectable; High/middle/low selectable.

GMRS License Required

RT76P FCC ID: 2ASNSRT76; RT97 FCC ID: 2ASNSRT97.
Package Includes
1X Retevis RT97 GMRS Repeater

1X GMRS antenna

1X 15meters feeder cable

1X RT76P Program Cable

1X User's Manual
Please fill in your procurement needs and contact information