10W duplexer GMRS repeater




High gain antenna + low loss cable




RB19P ultra-thin gmrs radio




NOAA+2000mAh large battery




emergency alarm
FREE shipping
---
RT97 GMRS Repeater and RB19P 6 pack – Farm Team Bundles



The combination of repeater + antenna + feeder + two way radio is a one-stop solution to your team communication problems.
RT97 repeater forms its own communication base station. RB19P (6 PACK) 5w gmrs two way radio, ultra-thin and portable convenient. Comes with NOAA and emergency alarm functions. The entire set can cover a range of 8km-15km (the actual distance depends on local conditions). Perfect for farms, fruit and vegetable farms, ranches, outdoor adventure groups, summer camps, schools, business communications and more.
Features:

Long distance calling range:
RT97 GMRS Repeater 10w duplexer + high gain antenna (MR004/MA09) + 15m low loss cable + RB19P 5w GMRS walkie talkie=8km-15km
Easy to operate and easy to carry:
The size of the RT97 repeater is only 310x283x170mm, and the net weight is only 1.66kg. It is very compact and easy to carry. The set includes a cigarette lighter, making it easier to carry around. LCD display, more convenient to use. And there are up and down keys to help you change channels and CTCSS/DCS tones.
RB19P has an ultra-thin profile and doesn't take up much space when carried around. The display and buttons adjust volume and channels.USB-C charging, easy charging
More suitable for farm/ranch design:
NOAA, VOX, emergency alarm.
NOAA: When there is severe weather such as hurricanes, you can be informed in advance and respond in time to reduce losses caused by the weather.
VOX: After starting, you don't need to press the PTT button to make a call. There is no need to touch the two way radio frequently when working, which improves work efficiency.
Emergency alarm: When you encounter danger or cannot handle the problem, you will be notified in time to protect your personal safety.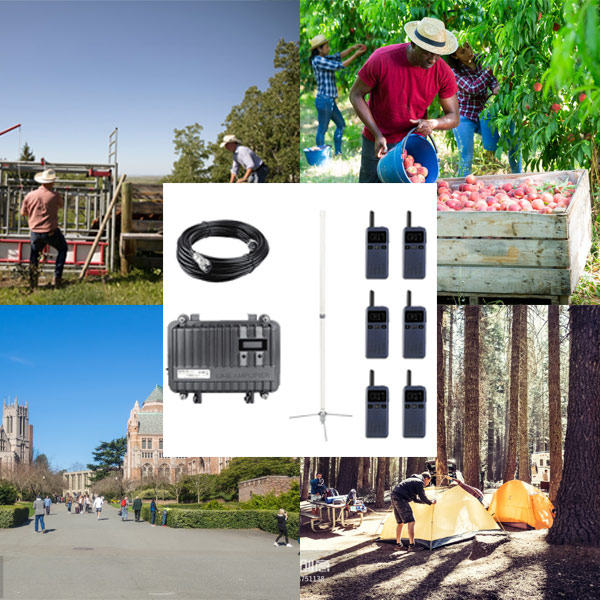 Retevis RB19P NOAA GMRS Radio
30 GMRS channels




8 GMRS repeater channels




258 Privacy Codes - 50 CTCSS and 208 DCS give you more secure calls and block interference.




The large 2000mAh battery supports 120 hours of standby time and 16-20 hours of continuous use.




Emergency alarm - local + remote alarm to ensure the safety of your outdoor activities.




11 NOAA channels




0-9 VOX levels optional, hands-free




0-9 Squelch Level Selectable - Allows you to adjust the squelch level according to the usage environment for clear communication.




TOT




keypad lock




Power display




Busy channel lock
Retevis RT97 GMRS repeater
10W high power/5W low power repeater
16 channel capability
Channels preconfigured as 8 wideband and 8 narrowband GMRS repeater pairs
Independently receive and send private tone options via PC software
Broadband/narrowband selection via PC software
High/low transmit power selection via PC software
Adjust noise squelch level via PC software
Adjust repeater delay (hang) time via PC software
Keyboard lock function
Compatible with all Retevis repeater-enabled GMRS phones and handheld devices
Package includes
1X RT97 GMRS Repeater
1X MR004 6dBi High Gain GMRS antenna/MA09 7.2 dBi high-gain antenna
1X 15 meters 50-3 Pure Copper Low Loss Coax Cable
6X RB19P 5W GMRS two way radio
1X use's Manual
Retevis RT97 GMRS repeater
Technical parameters:
Specifications
Frequency Range
GMRS(GMRS/TX: 462.5500/RX:467.5500​)
Channel Capacity
16CH
Channel Spacing
±12.5KHz Narrow/±25kHz Wide
Operating Voltage
DC12V ~24V
Operating Temperature
-30°C~ +60°C
Frequency Stability
±2.5ppm
Antenna Impedance
50Ω
Dimension
260*210*70mm
Weight
1.66kg
Transmitter
Intermediate Frequency
160MHz / 465MHz
Power Output
≤10W
Modulation
F3E
Spurious Emission
-60dB or less
Maximum Frequency Deviation
Wide: ±5kHz Narrow: ±2.5kHz
Audio Distortion
5% or less
FM Noise
Wide:≤45dB Narrow :≤40dB
Receiver
Intermediate Frequency
150MHz / 455MHz
Sensitivity(12dB SINAD)
0.2μV (Wide) 0.25μV (Narrow)
Squelch Sensitivity
0.15μV (Wide) 0.2μV (Narrow)
Adjacent Channel Selectivity
≥ 70dB (Wide) / ≥65dB (Narrow)
Intermodulation
≥ 55dB
Spurious Rejection
≥ 55dB
Image Rejection
≥ 55dB
FM Ham and Noise
≤-45dB(Wide) / ≤ -40dB(Narrow)
Modulation Type
F3E
Operating Bandwidth
≤±7KHz / ≤±5KHz
Audio Distortion
≤ 5%
Retevis MR004 gmrs antenna
| | |
| --- | --- |
| Brand | Retevis |
| Model | MR004 |
| Color | Silvery White |
| Frequency | 462-467MHz |
| Gain | 6dBi |
| Support Power | 100W |
| S.W.R | <1.2 |
| Element | 3 |
| Length | 45.7inch(116cm) |
| Weight | 0.748kg |
MA09 Size: 950*120*105mm
Specification:
| | |
| --- | --- |
| Frequency | 462~467MHz |
| VSWR | <1.5 |
| Impedance | 50Ω |
| Gain | 4.5/7.2Bi |
| Polarization | Vertical |
| Maximum power input | 200W |
| Horizontal beam width | 360° |
| Vertical beam width | 30º / 19º |
| Connector | SL16-K |
| Radome material | fiberglass |
| Material of hardware-supplied | aluminum alloy |
| Hold pole diameter | Ø30~Ø62 mm |
| Suitable for models | Retevis RT97 |
| Weight | 1291g |
RB19P Technical parameters:
GENERAL
Frequency Range
GMRS
Rated Voltage
3.7V DC
Memory Channel
30
Battery
2000mAh
Frequency Sensitivity
±0.5ppm
Antenna Impendance
50Ω
Operation Temperature Range
-30℃~+60℃
TRANSMITTER
RF power
≤3W
Modulation type
FM(F3E)
Modulation distortion
<5%
Max FR.Deviation
≤5KHz
Spurious Radiation
≤7.5μW
Emission Current
≤1800mA
Preemphasis Character
Per Octave 6dB
RECEIVER
Sensitivity
<0.16μV(12dB SINAD)
Itermodulation Interference Resistance
≥60dB
Receiving Current
≤300mA
Standby Current
≤20mA
Audio distortion
<5%
Audio power
≥300mW
Retevis RT97 Programming Software
Retevis RT97 English Manual
Retevis RT97 Win10/7/8 XP Driver
Retevis RT97 Win11 Driver
Retevis RB19P Program Software-1.40
S/N (B) corresponds to v1.4 for the new version
Retevis RB19P Program Software-1.0
S/N corresponds to v1.0 for older versions
Retevis RB19P Driver
The WIN 11 driver, also compatible with WIN 10, WIN 8 and WIN 7 operating systems
Please fill in your procurement needs and contact information