*GMRS two way radio can be connected with RT97-RT97S
*IP67 waterproof and dustproof
*NOAA weather warning
*2800mAh large capacity battery
*Support TYPE-C charging
*Dual band display VHF-UHF
*SOS alarm function to ensure safety
Use HA1G exclusive coupon to get $5 off: 211231-5
Free shipping
---
HA1G 5w IP67 Waterproof NOAA GMRS Two Way Radio
Retevis HA1G 6W GMRS two way radio is an ideal two-way radio for ham. It has IP67 waterproof and dustproof, NOAA weather warning, 2800mAh large-capacity battery, supports TYPE-C charging, dual-band display VHF-UHF, SOS alarm function and other functions. It is very suitable for Use it on farms, ranches, adventures, mountain climbing, off-roading, and camping.
Feature:
GMRS radio
Contains 22 GMRS channels for strong compatibility with other walkie-talkies; 8 repeater channels to extend the range by connecting to a base station.
Convenient charging
A standard Type-C charging port and a charging base with USB C charging port; two charging methods bring convenience to charging the walkie-talkie.
2800mAh battery
Long service life; effectively supports long-term use of 2-channel radios without frequent charging.
clear sound
Amateur radio with squelch and microphone gain; eliminates ambient noise; improves sound quality; ensures clear communication.
NOAA Weather Alerts
12 NOAA channels; get the latest weather information; adjust plans as needed.
Backlight brightness adjustable
15 levels of brightness adjustable; you can easily check the intercom information during the day and night.
Can be expanded to the full frequency through spread spectrum!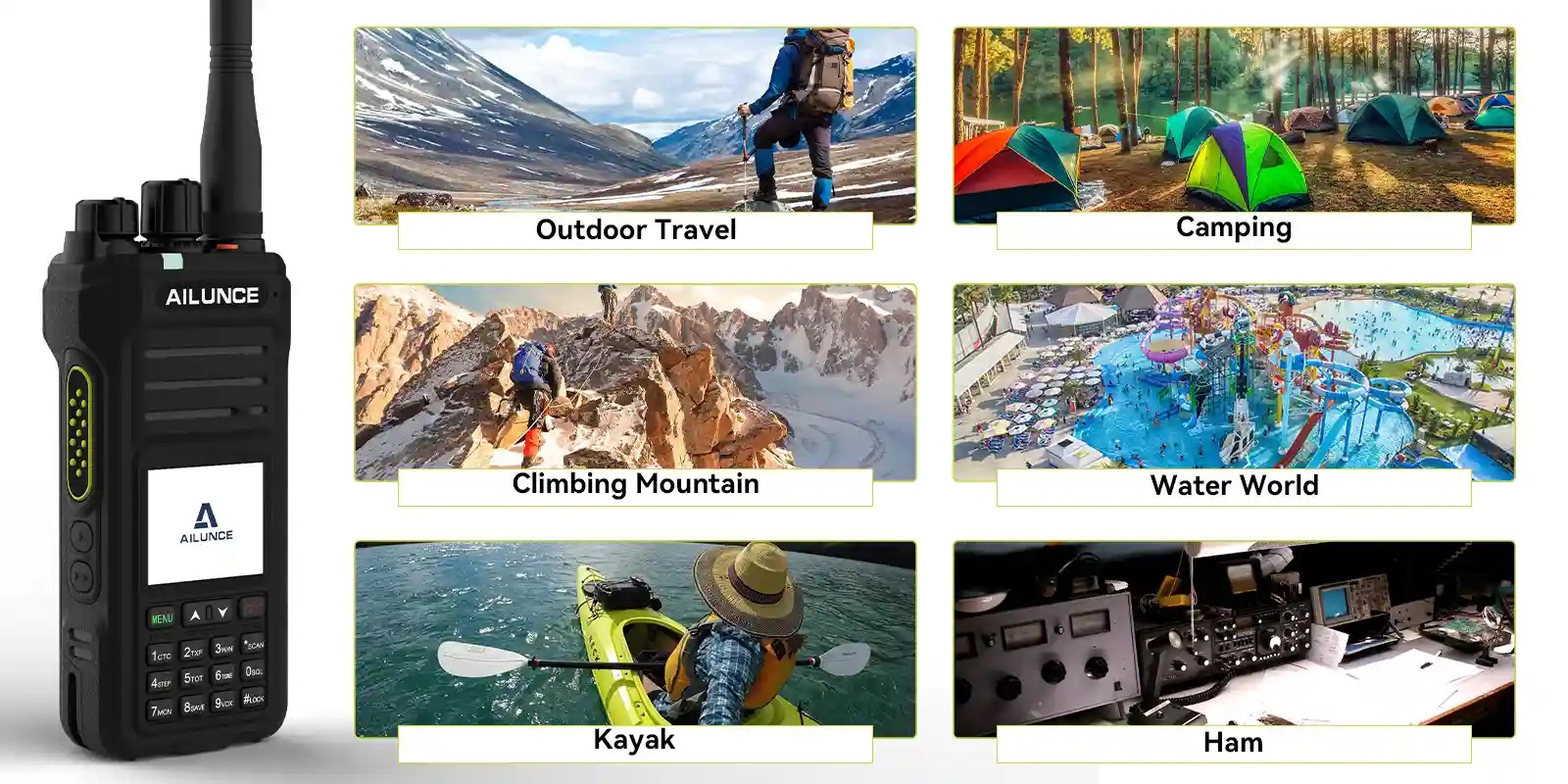 Retevis RB17P GMRS Handheld Radio Features
● 30 GMRS Channels
● Up to 250 Custom Channels
● 136-174 MHz/400-480 MHz Receive Only
● NOAA weather Channels
● NOAA weather alerts
● FM Radio
● Standard CTCSS/DCS Tones
● Support Splitting CTCSS/DCS Tone
● Selectable High/Low TX Power
● Channel Scan/Priority Scan
● Selectable Wide/Narrow Bandwidth
● 1.77 Color Backlight LCD Dual Display
● Channel Name, Number or Frequency Display
● Backlight Keypad
● Busy Channel Lockout
● Low Battery Alert
● 2 Programmable Function Keys
● IP67 Waterproof
● 2800mAh
●Type-C Charging battery
●Require GMRS certification
Package Includes
1X HA1G GMRS Two Radio

1X 2800mAh Battery

1X Belt Clip

1X Sling

1X USB-C Charging cable

1X Desk Charger

1X User Manual
Transmitter

Adjacent Channel Power:

Wide band:≤-65dBc;

Narrowband:≤-62dBc

CTCSS/CDCSS Modulation

Wide band:0.75KHz±0.1KHz ;Narrowband:0.4KHz±0.1KHz

Audio Distortion

≤5%

Modulation Sensitivity

8-12mV

Maximum Frequency Deviation

Wide band:≤5KHz ;

Narrowband:≤2.5KHz

Spurious Power

≤-20dBm;

Modulation Mode

Wide band:16KφF3E ;

Narrowband:11KφF3E

Transmit Current

≤1.70A

Pre-emphasis Character

6dB/every time the frequency will increase

Receiver

Sensitivity

Wide band:-123dBm;

Narrowband:-124dBm

Voice Output Power

≥500mW

Audio Distortion

≤5%

Obstruct

≥85dB

Inter modulation

Wideband: ≥65dBc ;

Narrowband: ≥60dBc

Adjacent Channel Selection:

Wideband: ≥65dBc ;

Narrowband: ≥60dBc

Spurious Power

RX≤-57dBm

Spurious Rejection

≥65dBc

Receiving Current

≤400mA
Retevis HA1G Programming Software
Retevis HA1G English Manual
Please fill in your procurement needs and contact information