cigarette lighter plug in and play easy use GMRS mobile radio with mini compact design, full 20W power, long talking range GMRS mobile radio for farm tractor and combines.
FREE shipping
---
Retevis RA25 Compact 20W GMRS Mobile Radio
Retevis RA25 GMRS mobile radio is a mini and compact design GMRS radio fit for driving, farm tractors, trucks, and combines, the small and compact body makes it very easy to place, and the cigarette Lighter Plug can connect to the cigarette lighter in the tractor and car directly, which is very easy to set up and saves you time.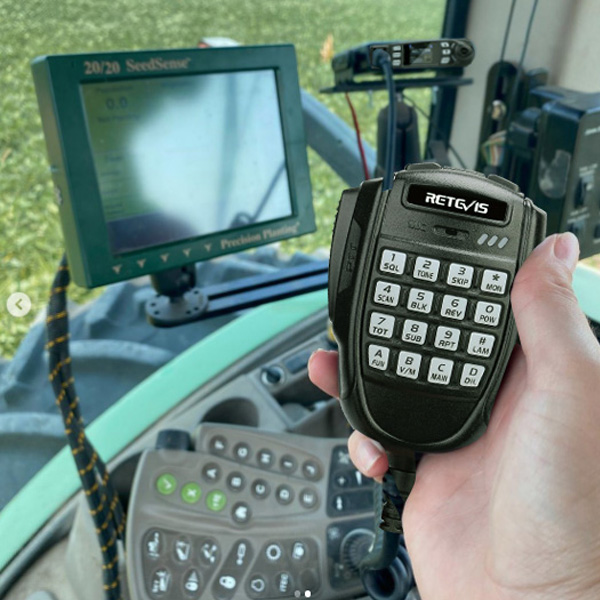 Retevis RA25 GMRS Mobile Radio Features
Two Year Warranty

Full 20 Watt GMRS Radio

30 GMRS Channels-identified by editing name

8 GMRS repeater capable channels

VFO/Channel mode switch

Frequency/ channel/ name display

260 Privacy Codes - CTCSS, DCS, DTMF, 2Tone, 5Tone setting for each single channel.

11 groups fixed scrambler code plus self defined scrambler code

FM:86.7-108MHz

LCD brightness control

Local and remote Emergency Alarm function

VOX-hands free

Full keypad handheld Microphone; keypad lock

0-9 SQL

bandwidth adjustable

VFO Scan and Channel Scan

DTMF

Beep

TOT

off/ 1-9 VOX; 0.5-3.0 VOX delay.

Compander function

GMRS License Required

FCC ID: 2ASNSRA25

Dimensions- 4.2 x 4.9 x 1.78 inches
Package Includes
1X Retevis RA25GMRS Mobile Radio

1 x Microphone

1 x microphone Hanger

2 x Adjusting screws

4 x Pads

4 x Screws

1 x Fuse

1 x Mobile Bracket

2 x non-slip mat

1 x User manual
Simple and professional GMRS mobile radio
Retevis RA25 GMRS mobile radio has nice housing, stoutness & stability, advanced and reliable functions, perfect & valuable. This GMRS mobile radio is specially designed for tractor drivers and it pursues philosophy of innovation and practicality.
Compatible with other FRS/GMRS radios
Retevis RA25 GMRS mobile radio with 30 standard GMRS Channel Table, you can use it to connect with your other FRS and GMRS radios after setting them to the same CTCSS/DCS and bandwidth.
Long Range GMRS mobile radio for farm tractor drivers
Full 20W output power, up to 10miles talking range in farm open area, very fit for farm drivers face to face communication, improve farming efficiency, and keep safe.
Easy install GMRS mobile Radio
12V Cigarette Lighter Plug design, only plug in, you can use it directly, more flexible and easy to put away the mobile radio when you don't need it.
Easy operate GMRS mobile radio
GENERAL
Frequency Range
GMRS: TX: 462.5500-467.7250MHz RX:462.5500-462.7250MHzFM:86.7-108MHz
Number of Channels
30 channels
Channel Spacing
25K (Wide Band) 12.5K (Narrow band)
Phase-locked Step
2.5KHz,5KHz,6.25KHz,10KHz,12.5KHz,15KHz,20KHz,25KHz,30KHz,50KHz
Operating Voltage
DC 13.8V±15% (Standard version)DC 12V~28V (Optional version)
Squelch
Carrier/CTCSS/DCS/5Tone/2Tone/DTMF
Frequency Stability
±2.5ppm
Operating Temperature
-20℃~+60℃
Dimensions(mm)
124x101x36m
Weight
0.45kg (mian unit)
RECEIVER
Wide band
Narrow band≤0.25μV
Sensitivity (12dB Sinad)
≤0.25µV
≤0.35μV
Adjacent Channel Selectivity
≥70dB
≥60dB
Audio Response
+1~-3dB(0.3~3KHz)
+1~-3dB(0.3~2.55KHz)
Hum & Noise
≥45dB
≥40dB
Audio distortion
<3%
Audio power output
> 2W@10%
TRANSMITTER
Wide band
Narrow band
Power Output
≤20W
Modulation
16KΦF3E
11KΦF3E
Adjacent Channel Power
≥70dB
≥60dB
Hum & Noise
≥40dB
≥36dB
Spurious Emission
≥60dB
≥60dB
Audio Response
+1~-3dB(0.3~3KHz)
+1~-3dB(0.3~2.55KHz)
Audio Distortion
≤5%
Retevis RA25 brochures
Retevis RA25 Program Software
Retevis RA25 English Manual
Please fill in your procurement needs and contact information