Retevis RA85 GMRS two way radio with 60 GMRS Channels. full functions, fit for ham communication with family numbers, family farms, and ranches daily communications.
GMRS repeaters capable.
Narrow and Wide Band adjustable.
One-click to cancel sub-sound
*Press and hold PTT and 8 key to power on, all sub-audio is canceled and automatically saved
FREE shipping
---
Retevis RA85 Long Range 60Channles GMRS Two Way Radio
Retevis RA85 GMRS handheld radio is a full 5W full keypad design GMRS walkie talkie with full functions, it with 60 GMRS channels for multiple uses of a single GMRS frequency channels, 8 GMRS repeater capable channels can help you connect different GMRS repeaters for longer calling distance, Retevis RA85 GMRS radio is a professional GMRS radio for hams, radio explorer, and family GMRS users, the convenient design also make it fit for farming communications.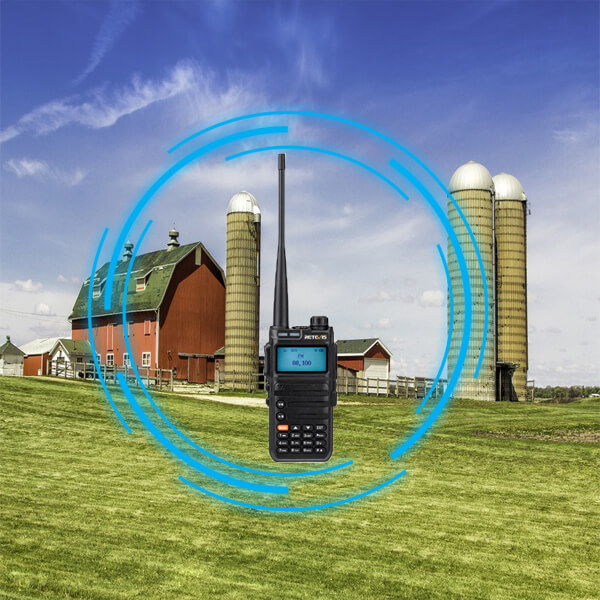 Retevis RA85 GMRS Two way radio Features
Two Year Warranty

Full 5 Watt GMRS Radio, Power level adjustable

60 GMRS Channels, 30-60channesl are GMRS Reserved channel, you can choose GMRS frequency according to your needs.

8 GMRS repeater capable channels-can connect different GMRS repeaters

CTCSS/DCS; 260 Privacy Codes - Bring you safe calls without interruptions.

Narrow and Wide Band adjustable.

(Channel 8-14 defaults to fixed narrowband and low power and does not allow adjustment; other channels default to wideband, allowing wide and narrowband to be adjustable)

Key combination: Press and hold the PTT+8 number key to power on, all sub-audio is canceled and automatically saved.

One-click to cancel sub-sound

Identified by editing name

Dual-band, dual display, dual standby.

NOAA-

(side key customization)

Digital FM radio (receiving 65-108MHz) (side key customization)

TOT

0-9 Squelch level adjustment

0-10

VOX level adjustment.

Auto backlight

VFO frequency and channel mode display(ch/ ch+name display)

High/Mid/Low power adjustment.

TO/ CO/ SE Scan mode selectable.

PTT delay

SOS Emergency Alarm(side key customization)-Local/ local+remote

Flashlight lighting (side key customization)

keypad lock

Channel broadcast

Busy channel lock

Monitor-(side key customization)

Low battery warning

Power saving

DTMF

USB Charging Base and Type-C USB charging Cable.

GMRS License Required

FCC ID: 2A3OORA85

Size- 4.76 x 2.4 x 1.3 inches
Package Includes
1X Retevis RA85 GMRS Two Way Radio

1X 1800mAh rechargeable Li-ion battery

1X Belt Clip

1X Hand Strap

1X USB Type-C charging cable

1X Desktop Charger

1X Charger adapter

1X User's Manua
General
Frequency range
GMRS
Memory channels
60
Frequency step
12.5kHz
Input voltage
7.4 VDC
Battery(standard configuration)
1800mAH(Li-Ion)
Battery life(5-5-90,high power transmission)
About 14 Hours
Power
Consumption in standby
≤65mA
Consumption in reception
≤450 mA
Consumption in transmission
≤1.8 A @high power,850 mA @ low power
Frequency stability
±2.5ppm
Operating temperature
-20℃ to +60℃
Antenna impedance
50Ω
Dimensions (With battery, but without antenna)
121×61×33mm
Weight (Including antenna and battery)
223g
Transmitter
Transmit output power
5W/0.5W
Modulation
11K0F3E@12.5KHz
Spurious emission
-36dBm<1GHz, -30dBm>1GHz
FM signal-to-noise ratio
40dB @12.5KHz
Audio distortion
≤5%
Modulation limit
±2.5 KHz@12.5 KHz
Adjacent channel power
60dB @ 12.5KHz
Audio response (300-3000Hz)
+1~3dB
Receiver
Receiving sensitivity
0.25μV (12dB SINAD)
Adjacent channel selectivity
≥55dB@12.5KHz
Intermodulation immunity
≥55dB@12.5KHz
Conducted spurious emissions
≤-57dB @12.5KHz
FM signal-to-noise ratio
≥40dB @12.5KHz
Audio output power
1W @16ohms
Audio distortion
≤5%
Audio response (300-3000Hz)
+1~-3dB
Retevis RA85 Program Software-New Version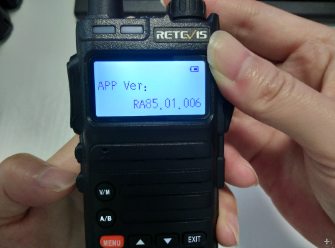 Fit for RA85 radio display the current version number when Press and hold side key 2 to power on
Retevis RA85 GMRS Ugrade Firmware
Retevis RA85 Program Software-Old Version-fit for can't show version number when Press and hold side key 2 to power on
Retevis RA85 English Manual
Please fill in your procurement needs and contact information