This 20W GMRS mobile radio bundle and 5W GMRS handheld radio bundle can supply clear and stable communications for Family farms and ranch, the mobile for tractors, combine harvesters, UTV use, GMRS handheld for farm members, the complete GMRS bundle can use directly for your farm, no need other accessories.
FREE SHIPPING
---
Retevis RB86 and RB17P GMRS radio bundle
Expand your communication range with 20W GMRS mobile radio in your vehicle or build out your own GMRS base station with the Retevis RB86 GMRS Two-Way Radio. the Mobile radio bundle can be easily mounted in most vehicles and communicates with all other FRS/GMRS radios. Meet the timely communication of farm vehicle driver with other staff. The 8 repeater GMRS channels for immense transmission and reception ranges. The bundle includes a 3.54in 3dB gain short antenna, antenna cable and mounting bracket. This bundle now featured with NOAA, alarm, and dual stanby, keep you and your group safe as well as supporting your communications needs.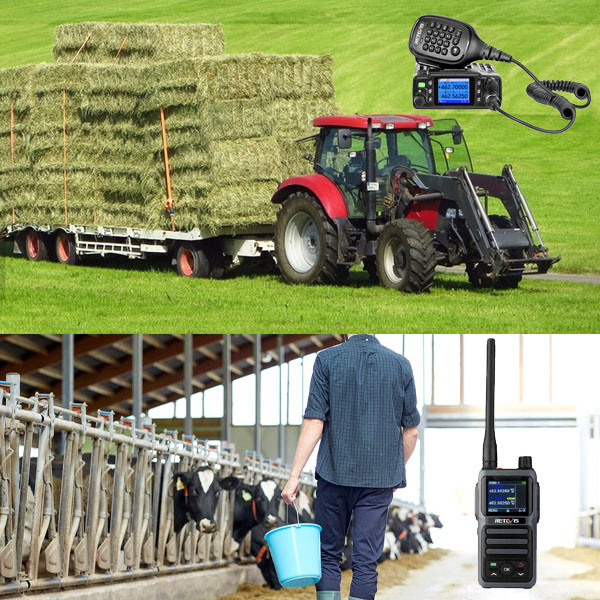 Retevis RB86 and RB17P GMRS Bundle Features
Two Year Warranty

20W GMRS Mobile radio, 5W GMRS handheld power.

Retevis RB86 with 200 GMRS mobile Channels, Retevis RB17P with 198 GMRS handheld channels.

RB86 IP67 waterproof and dustproof GMRS mobile radio.

30 factory setting GMRS channels for out of box use.

8 default GMRS repeater capable channels, help you get a longer calling distance.

RB86 170 channels, RB17P 168 channels,reserved blank for storing more GMRS direct or repeater channels
216 Privacy Codes(50 CTCSS+83*2 CDCSS) - Bring you safe calls without interruptions.
Alarm Function(local or local+ remote)-In case of emergency, use to keep farm work safe.

LCD display; dual-band standby, dual display.

NOAA

CH mode-frequency; channel NO.channel name mode.

Channel mode can be edited by keypad.

Scan

Monitor

VOX-0-9 can be selected by keypad; VOX delay

bandwidth adjustable-wide and narrow band available-can change by keypad

SQL-Squelch level 0~9 can be selected by keypad

Power saving mode

Keyboard lock; busy lock by keypad.

Beep

Scan mode can be selected by keypad-CO; TO; SE.

TOT

Reset by keypad.

GMRS License Required

RB17P FCC ID: 2ASNSRB17P; RB86 FCC ID: 2A3OORB86
Package Includes
1X short antenna

1x 5meters Low loss cable

2X Earpiece

1X RB86 program cable

1X RB17P Program cable

1X User's Manual
Please fill in your procurement needs and contact information