Fully integrated control microphone makes operation more convenient.
NOAA weather forecast, keep informed of weather changes.
20w gmrs mobile radio, medium to large power.
MR300 6.5dB fiberglass antenna with anti-collision spring base
FREE Shipping
---
RA86 NOAA GMRS Mobile Radio with MR300 50w Antenna Bundle
Retevis RA86 NOAA GMRS Mobile Wireless with MR300 50W Fiberglass Antenna Bundle. is a 20w high power, NOAA, 30 GMRS channel, mobile GMRS two-way radio with an integrated control microphone. With the 50w fiberglass antenna, the transmission distance is longer! Suitable for off-road vehicles, jeeps, tractors, combine harvesters, etc. It is very convenient to use in farms, pastures and outdoor scenes.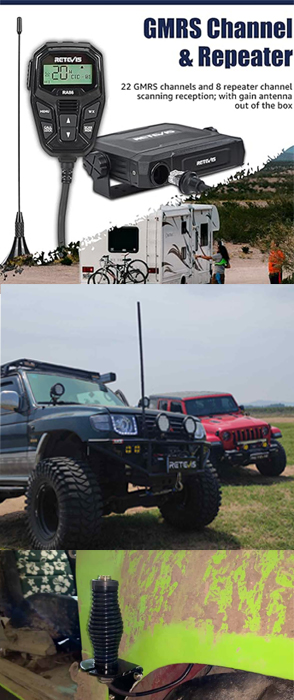 Features
GMRS mobile radio;
22 GMRS channels; compatible with walkie-talkies; 8 relay channels; extended communication distance. A total of 99 GMRS direct channels + 8 GMRS relay channels
Fully integrated control microphone;
Easy to operate; place mobile radio base anywhere in vehicle; stow radio unit away; save dashboard space
NOAA Weather Alerts;
10 weather channels; support scanning and alarm; understand the latest weather information; facilitate timely adjustment of itinerary.
LCD Monitor;
4 backlight colors; 3. Adjustable backlight brightness; better visibility; convenient for understanding the status of mobile phone stations throughout the day.
microphone gain;
Increases microphone signal amplitude; better speaker sound quality; audible sound output; 3 levels selected.
privacy code;
50 CTCSS 210 DCS tone; 5720 channel selections; two ways to display code values or groups; effectively eliminate communication interference; press the PTT+scan key and turn on the mobile phone intercom to cancel code matching.
2 dB gain antenna;
Suction cup antenna; easy to fix on the car; extends communication distance; makes it easy to communicate with your partner even when you are far apart.
Durable;
The antenna is made of fiberglass material; the antenna is resistant to rain corrosion and supports long-term use
spring base;
The spring seat has high elasticity; when the car vibrates while driving, it can bend the antenna; effectively reducing damage to the antenna
Installation is stable;
Use bolts instead of screws to secure the antenna; even when the car vibrates; allows the antenna to remain stable for use
Strong compatibility;
The antenna has strong compatibility; can be easily used with different GMRS mobile radios; compatible with Retevis RA25 RB86 RA86 Midland MXT575 MXT500 MXT275VP4 MXT400 and Midland GMRS mobile two-way radios, etc.
Ease of use;
6.5dB gain antenna, effectively extending the communication distance; the black bracket can easily fix the antenna to the car.
Package includes:


1X Retevis RA86 GMRS Mobile Tractor Wireless




1X 2dB antenna




1X MR300 6dB fiberglass antenna




1X spring base




1X 5m feeder




1X User Manual



overall parameters
Modulation
FM
Frequency Range
GMRS(462.5625-467.725)
frequency error
±500Hz
Operating Voltage
12.6-14.4V
Antenna Impedance
50Ω
bandwidth
12.5kHz/20kHz
Working current
≤3.3A Hi power
≤1.8A Lo power
Operating temperature
-30℃-+55℃
TX parameters
transmit power
≥18W Hi power
4.5-6W Lo power
Spurious RF components
≤-60dBC
≤-13dbm
Transmit SNR
≥35
modulation limit
≤2.5KHZ(N)
≤5KHZ(W)@Repeater Channel
Adjacent power
≤-65dBc
≤-60dBc
Modulation Sensitivity
5-15mV
audio pre-emphasis
-3~-7@AF=500Hz
-6±3@AF=500Hz
3-7@AF=2KHz
6±3@AF=2KHz
RX parameters
Receiver sensitivity
≤-122m@SINAD=12dB
audio output
3.2V-4.2V@8R SPK
3.2v-4.2v@8R SPK @AF=1KHz.FM Devation=1.5KHZ
reception distortion
≤5.0%
≤8%
Receive SNR
≥40
≥36
receive blocking
≥80
≥75
co-channel rejection
≤-12
lane selectivity
≥70
audio de-emphasis
2~6@AF=500Hz
6±3@AF=500Hz
-8~-3@AF=2KHz
-6±3@AF=2KHz
2 dBAntenna:
| | |
| --- | --- |
| Antenna ELECTRICAL SPECIFICATIONS | MECHANICAL SPECIFICATIONS |
| Frequency Range:462 MHz | Length: 165 mm |
| Impedance: 50 V | Diameter of Chassis:φ39.5 mm |
| VSWR: ≤1.5 | connector: SL16-J |
| Gain: 2 dBi | Coaxial Cable: RG-174 |
| Polarization: Vertical | Length of Cable: 5 m |
| Radiation: Omni | |
| Maximum Power Input-watts: 50 W | |
MR300
| | |
| --- | --- |
| Frequency | GMRS(462-467MHz) |
| VSWR | ≤1.5 |
| Input Resistance | 50Ω |
| Gain | 6.5dB |
| Power Capacity | 50W |
| Antenna Length | 110cm |
| Antenna Diameter | 20mm |
| Antenna Housing Material | Fibreglass Radome |
| Antenna weight | 335g |
| Antenna Connector | N.J |
| Spring Base Height | 102mm(top plastic spacer not included) |
| Spring Base Material | Steel |
| Feeder Type | RG-58U |
| Cable | 5M |
| Connector | SL16J |
| (Spring Base + Feeder) weight | 670g |
| Colour | Black |
Retevis RA86 Brochure
Retevis RA86 Programming Software
Retevis RA86 English Manual
Please fill in your procurement needs and contact information