RA86 20W GMRS mobile radio with antenna beam, integrated control microphone, NOAA function, simple design and easy operation

RB17A special bright green color, unique portable design, emergency alarm, full 5W long distance call range
Free shipping
---
RA86 with RB17A camping GMRS radio bundle
The RA86 with RB17A camping GMRS radio bundle is a long range radio combo ideal for use on farms, ranches, camping, mountain climbing and exploring. It has noaa function and can be connected to a repeater to expand the call range. The bright color of RB17A is very obvious outdoors and improves safety.
Features:
Ready to use right out of the box, easy to operate
RA86 and RB17A both belong to GMRS frequency and can be connected directly without writing frequency. And fully compatible with other GMRS radios and RT97-RT97S GMRS repeater.
Complete set, saving time on selection
The set includes a 2 dbi antenna for direct connection to the RA86, two RB17A and programming cables. Very suitable for farms, ranches, camping, and mountain climbing.
Suitable for outdoor environments
RA86 comes with noaa function, which allows you to know the weather conditions in advance when outdoors so that you can modify your plan in time. RB17A has a one-button alarm function - remote/local alarm function, and the color is very bright and easy to identify outdoors to improve safety performance.
VOX
Both radios have the vox function. After the vox function is turned on, you can make calls in time without pressing PTT. The sound is very loud, and you can hear your companions clearly even in a noisy environment. No problem whether you are driving a tractor or driving on the road.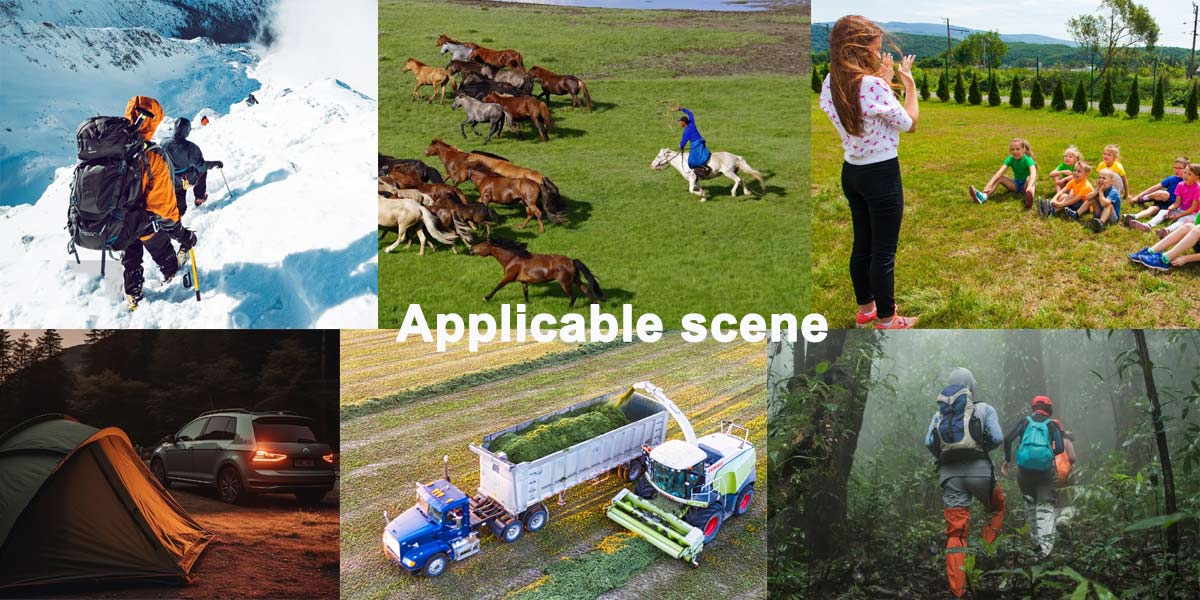 Package includes
1 x RB86 20W GMRS mobile radio
2 x RB17A 5W GMRS walkie talkie
1 x program cable for RB17A
1 x 2dbi antenna
1 x user manual
overall parameters--RA86
Modulation
FM
Frequency Range
GMRS(462.5625-467.725)
frequency error
±500Hz
Operating Voltage
12.6-14.4V
Antenna Impedance
50Ω
bandwidth
12.5kHz/20kHz
Working current
≤3.3A Hi power
≤1.8A Lo power
Operating temperature
-30℃-+55℃
TX parameters
transmit power
≥18W Hi power
4.5-6W Lo power
Spurious RF components
≤-60dBC
≤-13dbm
Transmit SNR
≥35
modulation limit
≤2.5KHZ(N)
≤5KHZ(W)@Repeater Channel
Adjacent power
≤-65dBc
≤-60dBc
Modulation Sensitivity
5-15mV
audio pre-emphasis
-3~-7@AF=500Hz
-6±3@AF=500Hz
3-7@AF=2KHz
6±3@AF=2KHz
RX parameters
Receiver sensitivity
≤-122m@SINAD=12dB
audio output
3.2V-4.2V@8R SPK
3.2v-4.2v@8R SPK @AF=1KHz.FM Devation=1.5KHZ
reception distortion
≤5.0%
≤8%
Receive SNR
≥40
≥36
receive blocking
≥80
≥75
co-channel rejection
≤-12
lane selectivity
≥70
audio de-emphasis
2~6@AF=500Hz
6±3@AF=500Hz
-8~-3@AF=2KHz

-6±3@AF=2KH

z
Antenna:
Antenna ELECTRICAL SPECIFICATIONS
MECHANICAL SPECIFICATIONS
Frequency Range:462 MHz
Length: 165 mm
Impedance: 50 V
Diameter of Chassis:φ39.5 mm
VSWR: ≤1.5
connector: SL16-J
Gain: 2 dBi
Coaxial Cable: RG-174
Polarization: Vertical
Length of Cable: 5 m
Radiation: Omni
Maximum Power Input-watts: 50 W
General Specifications--RB17A
Frequency Range
GMRS: TX: 462.5500-467.7250MHz RX:462.5500-462.7250MHz
Channel Capacity
30
Channel Spacing
12.5KHz
Antenna Impedence
50Ω
MIC Impedence
2.2kΩ
Working Voltage
7.4V DC
Size
124(H)*58(W)*39(D)mm
Operating temperature
-30~+60°C
Frequency Stability
±2.5×10-6
net weight
260g
Transmitter
Carrier Frequency Tolerance
±2.5×10-6
Output Power
≤5W
Modulation Sensitivity
10±2mV
Modulation Distortion
<3%
Modulation Limit
2.1 12.5K
Occupied Bandwidth
≤15 kHz
Modulation Characteristic
±3dB
Spurious Radiation
≤1μW
Adjacent Channel Selectivity
≤-65 dB
Transmitting SNR
≥40 dB
Receiver
Reference Sensitivity
-123dBm
Squelch Sensitivity
-122±2dBm
Audio Power
1W
Audio Distortion
≤3%
Modulation RX Bandwidth
≥I±7.5kHzI
Audio Response
≥+2dB, ≤-10dB
Co-channel Injection
≥-8 dB
Block
≥85 dB
Channel Selectivity
≥65 dB
Receiving SNR
≥45 dB
Retevis RB17A brochure
Retevis RB17A Program Software
Retevis RB17A English Manual
Retevis RA86 Brochure
Retevis RA86 Programming Software
Retevis RA86 English Manual
Please fill in your procurement needs and contact information