GMRS radio can use to connect GMRS repeaters to get a longer calling distance. you can but your own GMRS repeaters for your GMRS radios, or connect them to a open GMRS repeaters owned by others.
How to find Open GMRS repeaters around me?
On MYGMRS(website: mygmrs.com ) and ARKANSAN REPEATER GROUP( website: https://arkradio.net/repeaters/)and other GMRS websites, we can see a lot of public GMRS repeater information. This public information can let you know the GMRS repeater situation around you, and you can contact the repeater owner to connect it after permission, and then connect your GMRS radio to these GMRS repeaters to get a longer communication distance. Today, Retevis Solutions will take Retevis RT76P as an example to show you how to connect your GMRS radio to your favorite GMRS repeater.

gmrs repeater map( comes from https://mygmrs.com/map)
How to Connect GMRS Radio to GMRS Repeaters Around You?
Let's take Retevis RT76P GMRS two-way radio, RT97 and RT97S as an example, to show you how to connect your gmrs radios to the gmrs repeaters around you.
Step1. Know the RX, TX, B/N, and Tone Out/In of the repeater around you, taht you cant to connect to.
On the https://mygmrs.com/map website, for example, you can find the following information about a gmrs repeater nearby:

The repeater data comes from https://mygmrs.com/map
As the online shows, the H is 467.625Mhz, L is 462.625mHZ, B/N is 12.50K that means "n", also know as narrow(B means 25K). and the Tone Out/In is 131.
Step 2: Prepare the Retevis RT76P gmrs two way radio, program cable, use the cable to connect the Retevis RT76P to the computer, after reading, we will find that the 26 channels of Retevis RT76P, TX is 467.625, RX is 462.625, which is corresponding to the LH frequency of the gmrs repeater around you.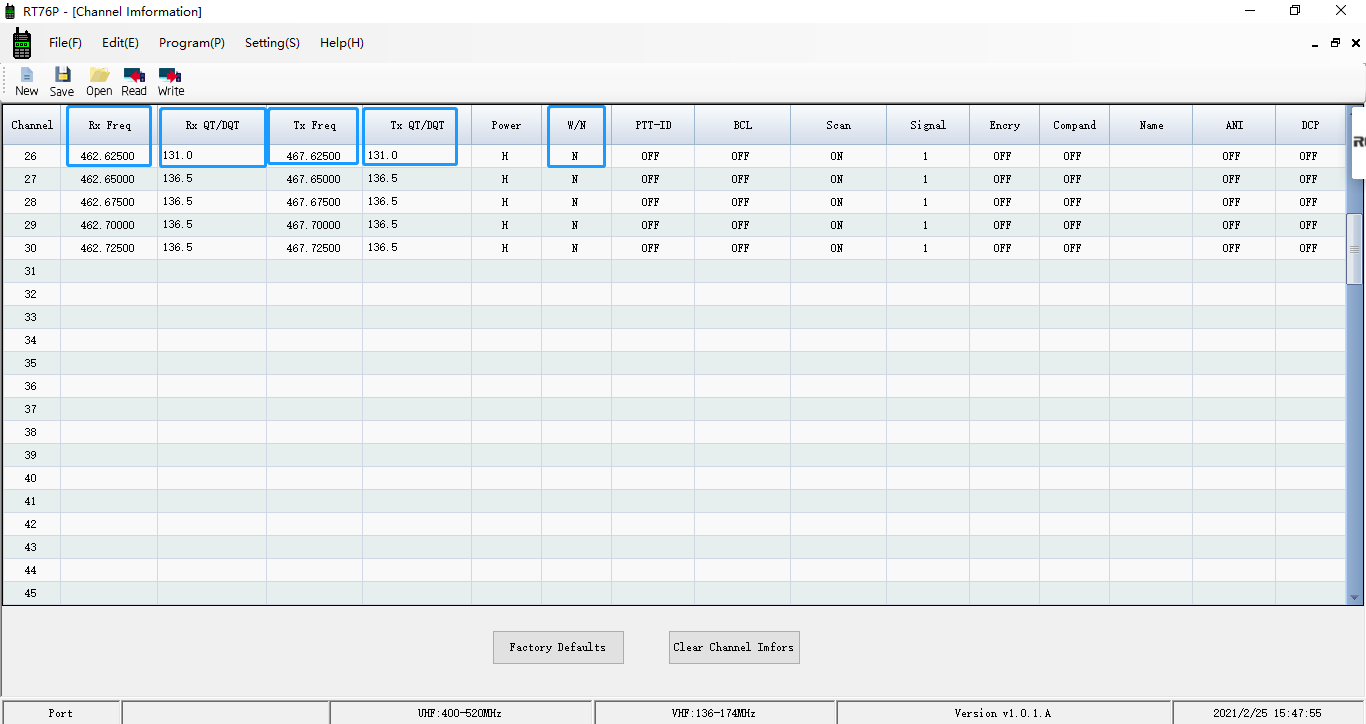 We only need to use the cable to input the 26-channel Rx QT/DQT and Rx QT/DQT (corresponding to the Tone Out/In of the repeater) directly into 131, and according to the repeater repetidor paso 12.50KZ, select B /N is N(As shown above ). After confirming all is no problem, save the settings to the Retevis RT76P radio. After the write is successful, you can extend the talking distance of your Retevis RT76P through the shared repeater. The specific expandable distance depends on the use environment of your walkie-talkie and the repeater situation. Please make sure your gmrs radio is within the coverage of the gmrs repeater signal.
Possible questions and answers on how to set your gmrs radios to connect gmrs repeaters: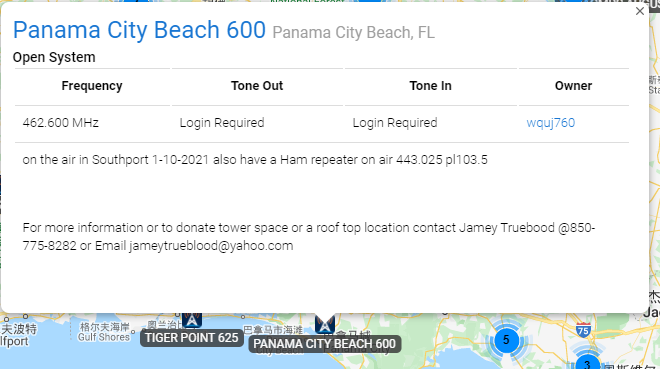 gmrs repeater contact information
Q: In mygmrs.com/map, not all the repeater information is public, and it is rarely completely public. At this time, how can I get the repeater information for the setting?
A: Click on the repeater you want to connect to, we can see the contact information left by the repeater owner on the display interface, and contact the owner directly to get the most comprehensive data settings. All the intermediate sharers are very generous. Only need one email!
Q: I can't find valid Rx QT/DQT and Rx QT/DQT in RT76P's program software.
A:Rx QT/DQT and Rx QT/DQT in Retevis RT76P program software support manual input. If you can't find a match in the selection list, you can also input it directly. Just like in the above example, there is no 131.0 in the frequency program list, then you can directly input.
Retevis Solutions focus on supplying GMRS radios and long range and radio solutions, if you need any help, welcome to contact us: at info@retevissolutions.com.