The GMRS radio bundle specialized for agricultural tractor communication is at a big discount and we are proud to introduce the Retevis RB86 GMRS Mobile Bundle to you.
"The screen is bright enough to see in direct sunlight but wouldn't make it any dimmer. I like the voltage display." Donnie said, farmer of a chicken coop. You can read his first review of the Retevis RB86 GMRS from another of our blogs: Donnie Beam 1st impressions of Retevis RB86 GMRS Mobile Radio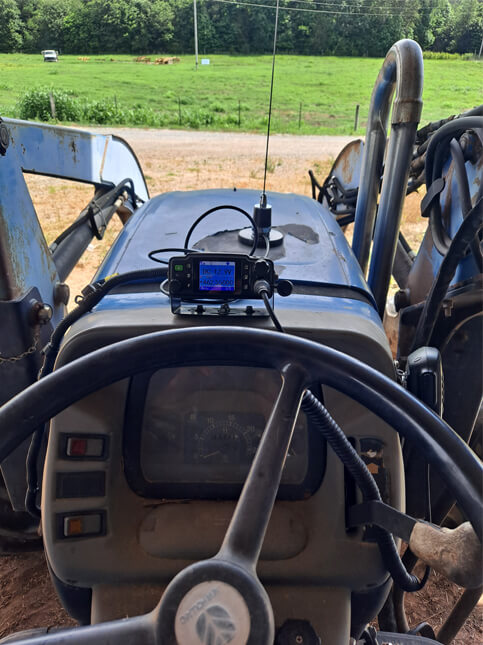 Since receiving the feedback from MK Outdoor and Off Road, we have updated the COAX Cable combination of the GMRS mobile radio bundle on the website. Now you can choose the appropriate coax cable according to your vehicle's needs directly on the website to achieve the best call effect.
Retevis RB86 GMRS Mobile Radio Bundle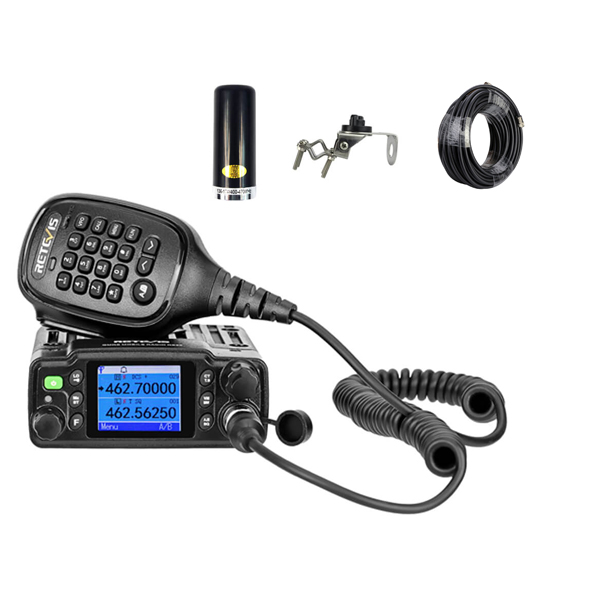 It is a long-range GMRS radio bundle specially designed for tractor communication on small and medium farms. Our suggested farm size is 200-1000 square acres. You can use it to achieve clear calls.
It is a complete GMRS radio bundle, including high gain short antenna, optional coax cable, complete Retevis RB86 waterproof GMRS mobile, and Roll Bar/Mirror Antenna Mounting Bracket for tractor mounted antenna, ready to use, no need other accessories.
It is a compact GMRS radio bundle that fits almost all models of tractors, and combines harvesters, you can use it to easily take your farm communications to a higher level, it is your first choice for a farm CB radio replacement.
It is IP67 waterproof and dustproof GMRS radio bundle, you can use it to deal with any harsh farm environment and achieve safe and stable farm communication.
Retevis RB86 is a full 20W high power GMRS mobile, It gives you three times the range of a GMRS handheld radio, and you can easily reach 6 miles with it on an open farm, so you can use it anywhere on the farm to talk to others and pick up all calls. Retevis RB86 also has 8 GMRS repeater channels, you can use them to connect to your nearby GMRS repeater to get a longer communication distance.
It has 9 adjustable squelch levels. You can adjust different squelch levels according to the background noise of the farm so that it can meet the communication needs of the farm with different levels of noise and bring you clear calls at all times. And then improve the efficiency of the farm, and ensure safety.
It's a GMRS radio bundle with NOAA weather forecast, with 260 privacy codes to make sure you don't get disturbed by others.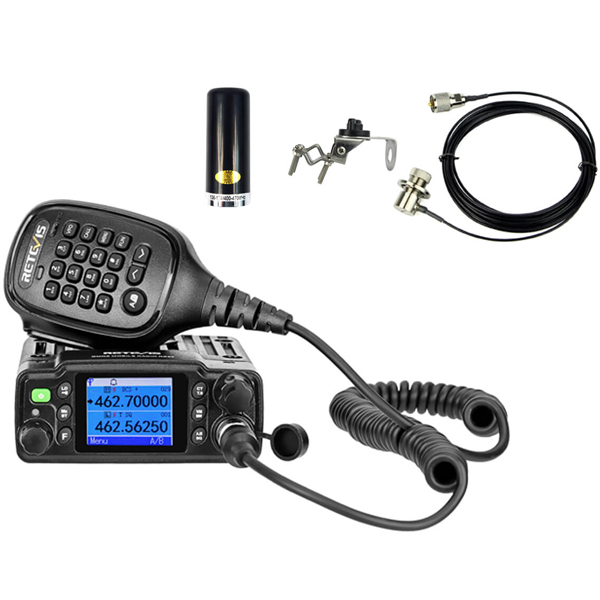 Retevis RB86 Long Range GMRS radio bundle, different coax cable choice.
The flexible Roll Bar/Mirror Antenna Mounting Bracket allows you to mount the antenna on the tractor roll shaft, or on the rearview mirror, wherever you need it, this versatile antenna clip is versatile.
Whether you're driving a tractor to sow, spray, harvest with a combine, or a UTV for your daily farm activities, the Retevis RB86 GMRS Radio bundle is perfect for you.
This full multi-purpose bundle is currently only $170.99, and you can get it right away with no additional shipping charges. If your farm needs an alternative to CB radio, consider the Retevis RB86 GMRS mobile radio bundle.