With the strong support of the government and state parks for camping, camping has become more and more popular. Whether it is a relaxing afternoon or a pleasant weekend, camping can make you more relaxed. Being close to nature makes life more interesting and meaningful. The walkie-talkie is an indispensable communication tool for camping, and you must choose the right one. GMRS walkie-talkie, as a model based on family use, is definitely the best choice for camping.
The meaning of the walkie-talkie screen backlight
Because the environment in which the walkie-talkie is used is not fixed, especially in outdoor activities, such as camping, hiking, rock climbing, cycling, and other activities, because of the changes in the environment, when you use the walkie-talkie,
Because of the change of the light source, the display of the walkie-talkie screen will bring you inconvenience. For example, under the scorching sun, if the brightness and backlight of the screen cannot be adjusted well, you will not see the words on the screen very well, or even bring you eye problems. While a walkie-talkie screen with a backlight function, allows you to use it comfortably all the time. Therefore, if you need to use the walkie-talkie outdoors, you must choose a walkie-talkie with a backlight function.
Why must choose Retevis RB17P GMRS Radio for your camping?
Retevis RB17P with 8 optional backlight colors, which are: Black, White, Cyan, Purple, Blue, Yellow, Green, Red. Allow camping enthusiasts to adjust the backlight color to meet the requirements of the screen in different environments. Whether you are in a cloudy day, under the sun on a sunny day, or in a dark night, or inside a colorful tent, when you use the walkie-talkie, the 8 optional backlight colors of RB17P allow you to see the walkie-talkie screen comfortably.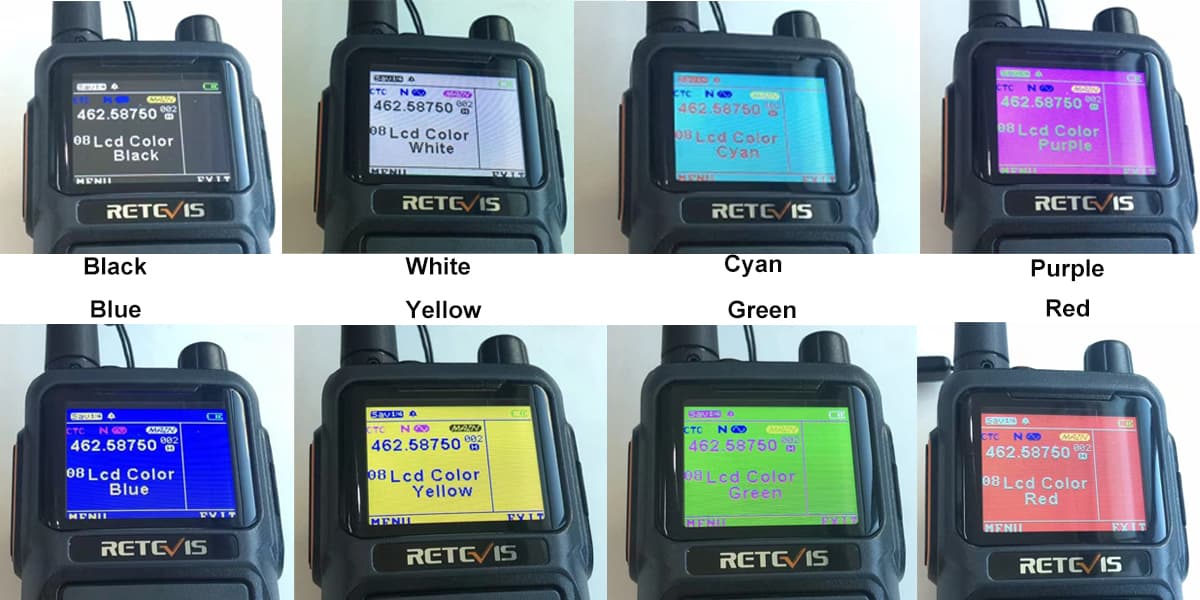 Retevis RB17P 8 color optional backlight
Retevis RB17P GMRS radio 8 optional backlight colors, allow you to adjust the color of the backlight according to your needs, which allows you to use the walkie-talkie more comfortably in the complex and changeable outdoor environment. Make your camping activities more comfortable and fun.
Learn more from Youtube:
If you need a walkie-talkie with multiple backlight options to meet your screen-watching needs in outdoor activities, welcome to choose Retevis RB17P GMRS radio, and welcome to order from Retevis Solutions by under link:
Retevis Solutions focus on supplying Long Distance GMRS radio and long range radio solutions, if you need any help, welcome to contact us: info@retevissolutions.com.