The active 2021 Atlantic hurricane season officially ended on November 30. It produced a total of 21 named storms (wind speeds of 39 mph or higher), including seven hurricanes (wind speeds of 74 mph or higher). High), four of which are major hurricanes (wind speeds of 111 mph or higher). The NOAA Climate Prediction Center under the National Weather Service accurately predicted this above-average hurricane season in its May and August outlook.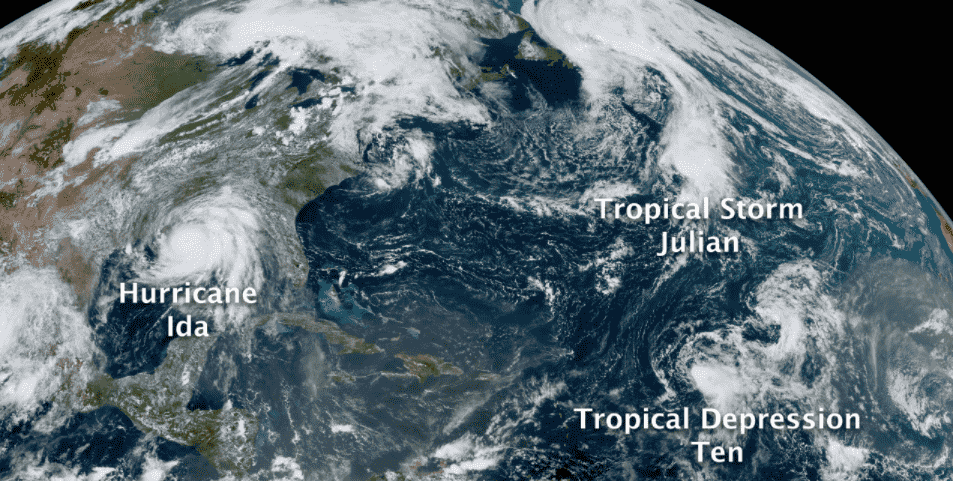 GeoColor image of Hurricane Ida, Tropical Storm Julian, and Tropical Depression Ten (which intensified into Tropical Storm Kate on August 30) from NOAA's GOES-16 satellite on August 29, 2021. (picture come from NOAA)
Why must choose GMRS radio for Emergency?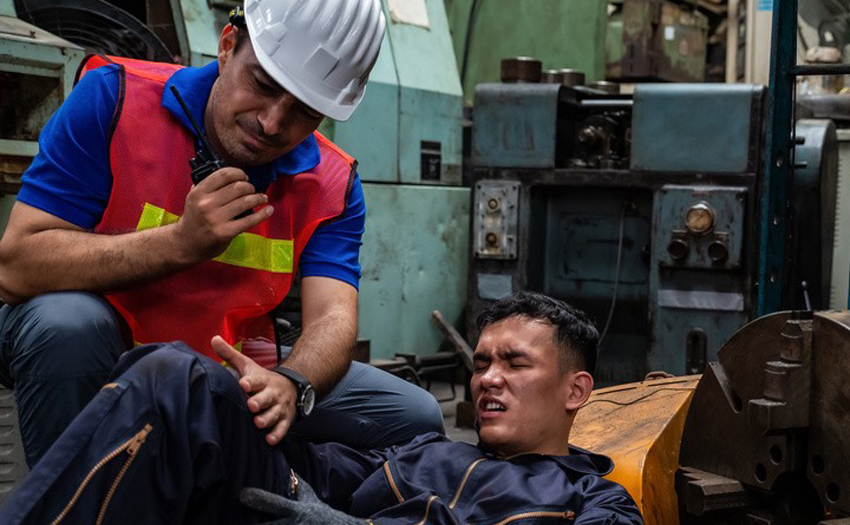 First of all, the longer distance is the main reason. Compared with FRS radio, GMRS radio has broader authority. FRS is only used for license-free groups and the power is limited to 2W. However, GMRS handheld radio can reach 5W, and mobile/base station models at up to 50 watts of power. The most important thing is that GMRS radio allows you to connect to a repeater, which means that in addition to the high power of GMRS itself, it can bring you a longer call distance than FRS Radio. The advantage of connecting to a relay allows you to get more long-distance. This means that in an emergency, your distress signal can be known to more people, and you can be found by people farther away.
The second point, and the one we just mentioned, is to connect to the relay. GMRS radio is allowed to connect to relays. In the United States, there are a lot of open relays. They are used as public rescue tools in emergency situations and are open to everyone. For example, when natural disasters such as hurricanes and floods occur, local GMRS relays will be opened for people to use so that more people in need can send out distress signals and be known by more people.
Retevis NOAA GMRS Radio make sure your family is Weather-Ready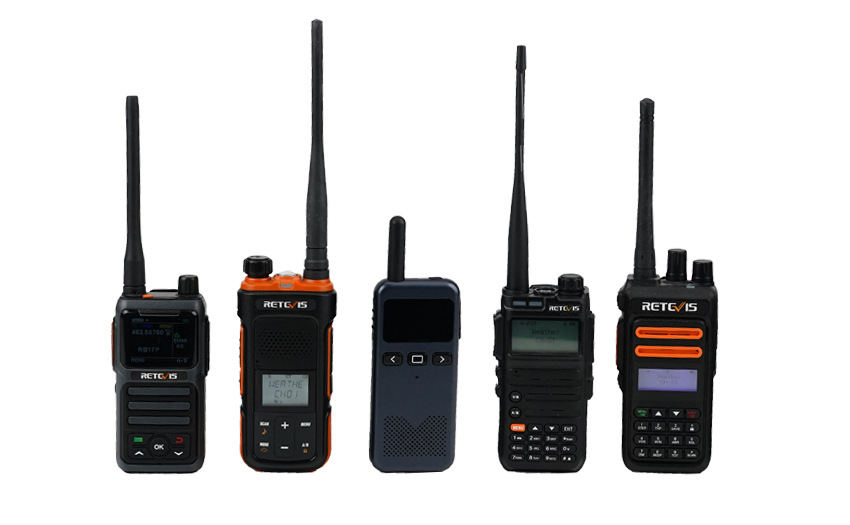 Retevis NOAA GMRS walkie talkie with 11 NOAA weather channels, can receive National Weather Service (NWS) broadcasts 24/7, the NOAA walkie talkie will broadcast information about the weather, such as hurricanes, tsunamis, earthquakes, etc. Retevis NOAA GMRS radio can receive NOAA information in time, so that you can receive the news as soon as possible, and make preparations. Let you and your family prepare before the hurricane hits, reduce losses, and ensure safety. At the same time, the GMRS channel allows you to connect to nearby GMRS repeaters when you need rescue, so that more people know your situation, to ensure that you can get help in time.
Retevis 5models GMRS radio with NOAA function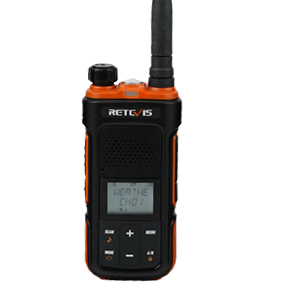 Retevis RB27 GMRS walkie talkie with NOAA, 6 simple buttons, with LCD display, LED flashlight, sound and light alarm, keypad lock function. very fit for family emergency and outdoor use.
Order link:https://www.retevissolutions.com/rb27-noaa-gmrs-two-way-radio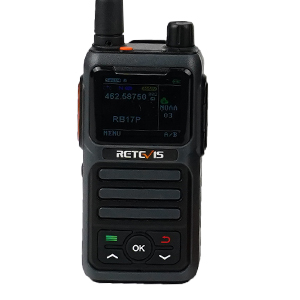 Retevis RB17P NOAA GMRS walkie talkie with 2200mAh 7.4V Large rechargeable lithium-ion battery, long standby, 7-inch TFT color screen, 8 optional background colors fit for various scenarios.
Order link:https://www.retevissolutions.com/rb17p-long-range-noaa-handheld-gmrs-two-way-radio#A9191D-C9034A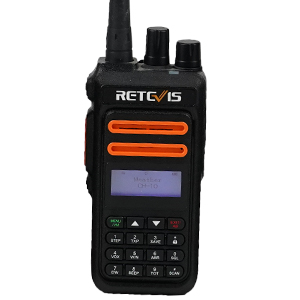 Retevis RT76P NOAA GMRS walkie talkie with 30 GMRS Channel, 8 Channels for GMRS repeater connection, 11 NOAA weather alert channels, and full keypad board. Make your using more convience.
Order link: https://www.retevissolutions.com/rt76p-best-selling-handheld-gmrs-two-way-radio#A9180B-C9034A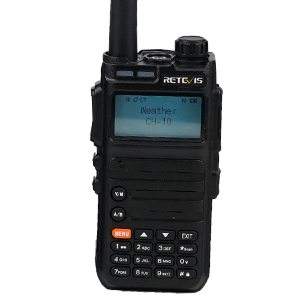 Retevis RA85 GMRS walkie talkie with 60 Channels. repeater capability with multiple channels to accommodate repeaters all using different CTCSS/DCS codes. NOAA function, Dual Band, Dual Display, Dual Standby, High Power, middle power, low power optional, very fit for full family use.
Order link: https://www.retevissolutions.com/ra85-long-range-portable-gmrs-two-way-radio#A9227A-C9034A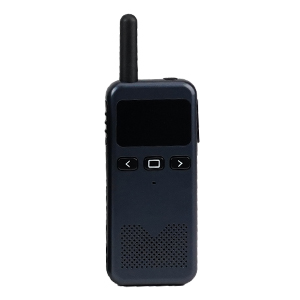 Retevis RB19P Cheap NOAA GMRS Two Way Radio, with 1.7-inch screen display, unique blue design, Mini and light, simple and high quality, 11 noaa weather channels, ideal for customers with limited budgets.
Order link: https://www.retevissolutions.com/rb19p-cheap-noaa-gmrs-two-way-radio#A9193D-C9034A
The 2022 hurricane season will officially begin on June 1. NOAA's Climate Prediction Center will issue its initial seasonal outlook in May, but now is the time to make sure your family is Weather-Ready by preparing for the season ahead. IIt is time to order NOAA gmrs Radio now, enjoy the year best price.
Retevis Solutions focus on supplying Long Distance GMRS radio and long range radio solutions, if you need any help, welcome to contact us: info@retevissolutions.com.